When Alexander Isak stepped up to take Newcastle's winning penalty on Friday night against Nottingham Forest, little did people know City Ground's stage was fittingly set for the Swedish striker.
As Isak kicked the ball, the permimeter advertising boards were set to the UN Refugee Agency bulletin- a coincidental tribute to Isak's family history.
As one fan tweeted: 'Isak, the son of Eritrean refugee parents who proudly represents Sweden scoring the winning penalty in front of @Refugees advertising hoardings wasn't lost on me.
'After recent discourse this gave me pleasure alongside the win.
'All people have value and dreams & deserve hope.'
The 23-year-old's parents fled Eritrea in 1980, escaping the second bout of civil war, and sought political asylum in Sweden.
Eventually settling in Solna- just north of the capital Stockholm- Isak was signed to local football team AIK Fotboll at the age of six.
The UK government is currently facing widespread criticism for its policy on refugees- policy which was at the heart of the BBC's dispute with Gary Lineker.
The Match of the Day presenter was suspended for 'breaching' imparitality rules in commentating on the home secretary, Suella Braverman's plan to 'stop the boats' and that 'enough is enough.'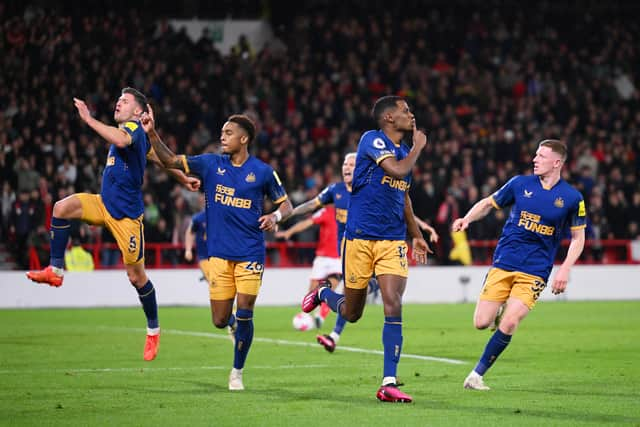 In response, Lineker tweeted: 'There is no huge influx. We take far fewer refugees than other major European countries. This is just an immeasurably cruel policy directed at the most vulnerably people in language that is not dissimilar to that used by Germany in the 30s, and I'm out of order?'
Braverman's plan to deport asylum seekers to Rwanda is currently on hold after a court challenge. However the home secretary is currently on a visit to the African country to meet with their governemnt.