Allan Saint-Maximin admits he would like to see Newcastle United sign Nantes star Ludovic Blas in the near future.
The Magpies will be busy in this summer's transfer window as they build on their five signings in January, where Kieran Trippier, Chris Wood, Bruno Guimaraes, Dan Burn and Matt Targett (loan) moved to Tyneside for around £90million in total.
Eddie Howe heads into the transfer window "open-minded", though is understood to be prioritising recruiting a goalkeeper, central defender, central midfielder and a striker.
Blas, an attacking midfielder, has excelled in France this season - scoring the goal that saw Nantes lift the French Cup last Saturday.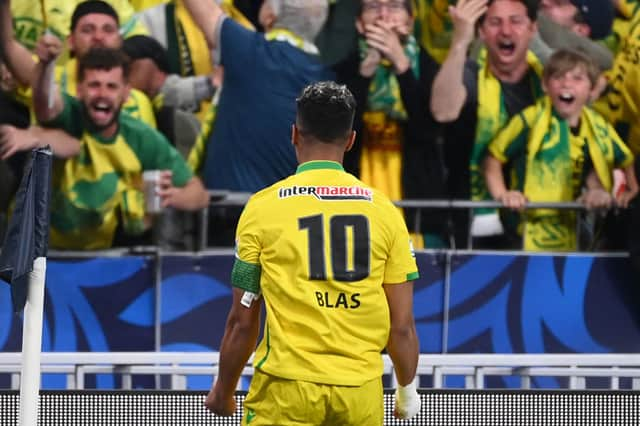 The 24-year-old represented France at under-20s alongside Saint-Maximin. And in an interview with Goal, the Newcastle winger namedropped Blas when discussing players he'd like to join United.
Saint-Maximin said: "The coach has a well-defined idea of what he needs for his team. If I had to choose, it would be the heart that would speak.
"I would most certainly want my friends to join the club. I'm thinking for example of Ludovic Blas.
"I really like the person and what he also does at Nantes. He's scored a lot of goals. He's an essential element at Nantes.
"I know that Bruno (Guimaraes) is very fond of (Lucas) Paqueta."
Saint-Maximin is right when he spoke of Guimaraes' friendship with Paqueta. The pair were inseparable at Lyon and still play together now when called up for Brazil national duty.
Speaking to Newcastle's matchday programme last month, Guimaraes was asked "if you could one former teammate to Newcastle, who would it be?"
Guimaraes replied: "Ah, Lucas Paqueta. He is my brother, my best friend and I really get on great with him.
"We have the same way of thinking, we are the same age and we were together everything day - always talking to each other.
"He is a family member that football has given me and I hope that he's happy wherever he is.
"He's a great guy, he has a massive heart and people like that deserve the very best."