Around 100 people, most of whom from different backgrounds, packed into a conference room at the Hyatt Regency in Riyadh to hear from key figures at Newcastle United.
In a first-of-its-kind event for the Magpies in the Middle East, the aim being to increase its reputation and global reach, attracted people from six nations who spoke 12 different languages. That, just one table.
Those in attendance were treated to guest speakers, including co-owner Amanda Staveley and head coach Eddie Howe, as well as enjoying complimentary snacks and drinks, while getting the chance to meet and greet their idols.
Indeed, it was Staveley who kicked off the event, once again stating how she and husband Mehrdad Ghodoussi instantly fell in love with the club after visiting St James' Park for a 1-1 draw with Liverpool in 2017 because of the "amazing" fans.
Summing up the club's progress from 20th 3rd brought a rapturous applause, similar to the one she received when she first entered the room. Staveley insists there is a lot more to come, and wants the fans' input along the way.
Indeed, supporters around the tables were asked to write on a big sheet of paper the things they liked or see Newcastle do as one on my table wrote 'stay at St James' Park'.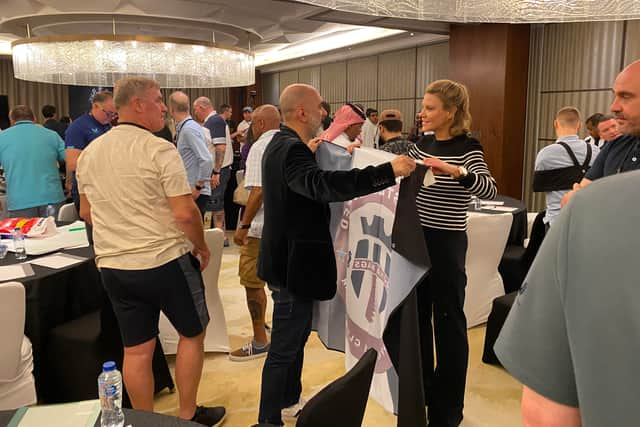 There was a slight break for an 'icebreaker; true or false challenge. Hands up if true, hands down if false... amusingly, a lot of supporters fell at the first question, believing Bruno Guimaraes was older than Joelinton!
Following a swift restart, two remained on the tiebreaker question, with a gentleman from Kuwait taking home a signed black and white shirt after guessing closest to the distance from Riyadh to Newcastle.
Back to the session, Chief Executive Officer Darren Eales spoke for around a quarter of an hour and outlined again the importance of increasing Newcastle's commercial revenue in order to boost transfer funds.
Saudi Arabia and the Middle East will have a big part to play in that. Eales previously called it an "untapped market". Newcastle are beginning to attack it, partnerships with Noon, STC and SAUDIA have been announced for the trip alone - and more will follow.
Eales then introduced 'Mackem killer' Shola Ameobi, loan manager by day but an ambassador on this trip. And it's easy to understand why - an academy graduate with 14 years at his boyhood. When he started, Newcastle were a Champions League club, and the 41-year-old believes a return to that stage is "realistic goal".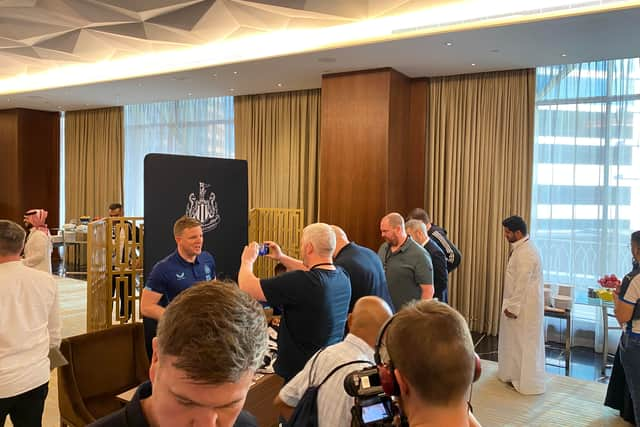 While organisers waited on Howe and his players to arrive, Staveley, Eales and director Jamie Reuben posed for photos, signed shirts, flags and interacted with supporters before dashing off just after Howe's arrival.
The Newcastle head coach was accompanied by coach Simon Weatherstone, again, a loud cheer as he took to the stage. Howe spoke for 10 or so minutes and accepted questions from the floor, with the pressure of the job and Joelinton among the topics.
Sean Longstaff, Jamaal Lascelles and Jacob Murphy were next up to finish, and were namely asked quick-fire-type questions on first football games, first pre-season trips and swapping shirts with opposition players.
Howe and his quartet of players also stuck around for photos. And just as they exited the room, one fan said out loud, "this is the second best day of my life". The best, we're not sure.