Callum Wilson breaks his silence on calf injury amid fears his Newcastle United season could be over
Callum Wilson will see a specialist over his calf injury, with Eddie Howe set to provide an update on the striker on Friday morning.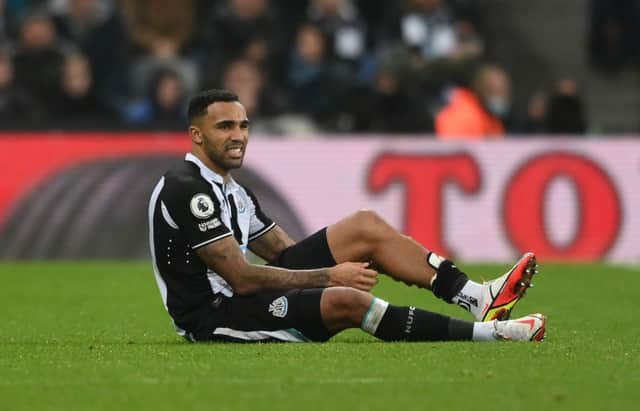 The Magpies' top scorer will visit a specialist after injuring his calf in the 1-1 draw with Manchester United on December 27.
Wilson attempted to play on but limped off just before half-time as Edinson Cavani cancelled out Allan Saint-Maximin's opener in the second-half.
The initial diagnosis on Wilson's absence was estimated at around six weeks, however there genuine is concern the 29-year-old could be out for longer.
Wilson, speaking on The Footballer's Football Podcast, admitted it feels like a "middle run" injury.
'I don't know how long I'm going to be out for'
The former Bournemouth man said: "It's a strange one because I don't actually know how long I'm going to be out for myself yet
"I've got an appointment on Friday with a specialist basically to go through everything and see what the scan says and we can go from there and distinguish a time frame really.
"(The injury) is in my calf, soleus area. You do that same movement a thousand times a week in training but for some reason I've managed to push off in the wrong position, the wrong location and it's got a tear in it and gave way."
'Middle of the road'
Wilson added: "If I take an extra week or two in my rehab because I'm disappointed then that's another week or two I'm losing and another week or two the team are without me so I think for me, it's just a case of okay it's happened, I can't do anything about it except rebuild and go again. As a professional, that's what I've lived by.
"I was always going to go back on against Man United even with an injury that could keep me out for a couple of weeks or months, that's just the player I am.
"You have an inkling if it's a good [injury] or a bad one and I'd say this one is probably the middle of the road but I'll find out next week how long that is going to be and I'll rebuild and go again."
Eddie Howe set to provide update
Eddie Howe is expected to provide an update on Wilson and United's growing injury this morning when he speaks to the media ahead of facing Cambridge United in the FA Cup on Saturday afternoon.
Meanwhile, fears over Wilson's injury has made signing a striker a top priority in the January transfer window following Kieran Trippier's arrival.