Newcastle United No.9 Callum Wilson has confirmed he is fit and available to face Fulham this weekend.
The Magpies striker has missed the previous four Premier League games after limping out of the 3-3 draw against Manchester City with a hamstring problem.
Wilson's return is well-timed following injuries to Alexander Isak and Chris Wood during the international break.
"I'm looking forward to that one (Fulham away)," the 30-year-old said on the BBC Footballer's Football Podcast. "I've worked hard to get to a point where I'm available for selection.
"I've been working hard this week in training. We'll see where we're at."
Neither Isak or Wood are expected to be involved on Saturday, meaning there is a strong chance Wilson, who has scored two in three this term, will start at Craven Cottage.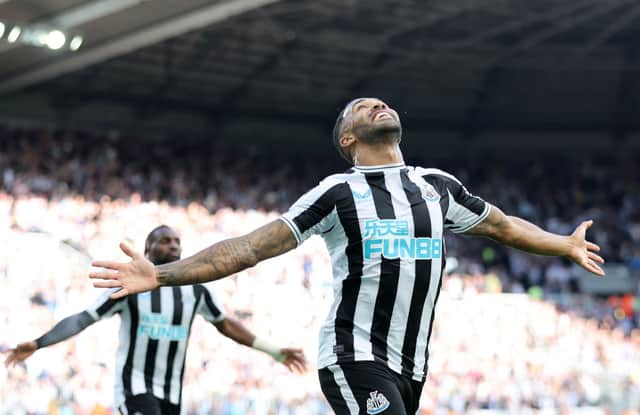 United take on a newly-promoted Fulham side sixth in the top-flight table after taking 11 points from their opening seven games.
"Yeah they've been on fire this season," Wilson added. "I think they're sitting fifth or sixth in the Premier League.
"They've got a striker (Alexsandar Mitrovic) who is scoring goals at the moment so it's going to be a tough game whether it's a newly promoted side or not, it depends how you look at it.
"You can look at it like that and take a bit of confidence or you could look at their league position at the minute and have a bit of fear.
"Any game, any team, you're always 11v11 you have nothing to fear. Let's go out there and smash them.
"I don't know what people mean when they say 'I feel pressure'. I'm just like 'it's a game of football'. I love football.
"It's like when you take a penalty for example, it's me against you. There is one guy there trying to stop me from scoring a goal and I'm like 'this ain't happening'. That's my mentality."
Wilson joked: "We go Fulham away, so what if they're playing well, we'll still smash them!
"I might eat my words come next week but it's going to be a tricky one. Hopefully, I'll have returned and scored some goals."
Howe's side, who have drawn five of their first seven matches, are searching for their second win of the campaign after beating Nottingham Forest on the opening day of the campaign.