'Couldn't believe it' - Eddie Howe's strong response to controversial incident in Newcastle United's defeat at Liverpool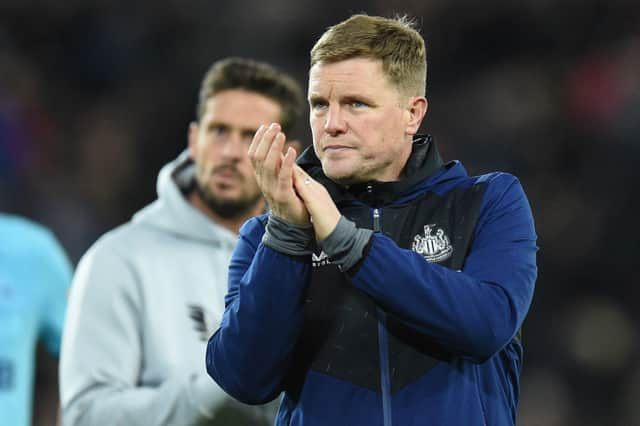 The Magpies took the lead through Jonjo Shelvey's 25-yard strike before the Reds controversially equalised.
In the build-up to Diogo Jota's leveller, Isaac Hayden went to ground with a head injury.
Howe "couldn't understand" how Dean did not stop the game in what he believed was a big turning point in the match.
Jurgen Klopp's side quickly got their noses in front through Mo Salah before Trent Alexander-Arnold added a third late on.
'I can't understand'
"We didn't do everything right but I felt the turning point in the game was an obvious one," Howe said.
"I can't understand how Mike (Dean) has not stopped the game.
"Isaac clearly holds his head immediately laying in our six-yard box with another player and of course that leads to the goal.
"At the time it was clear to me that the game has to be stopped. I couldn't believe it wasn't. For me, that's the key moment in the match.
'Similar pattern'
Against Leicester City, Howe felt James Maddison dived for a penalty, which brought the opening goal via Youri Tielemens.
Howe feels lots of decisions are going against his side in their battle to retain their Premier League status.
Howe added: "I couldn't believe what I was seeing because I could see Isaac was holding his head immediately, it wasn't as if it changed.
"The priority always has to be the safety of the player. We talk a lot at the moment about head injuries and I felt it was a wrong decision.
"I thought we were really harshly treated today but it's a similar pattern of other games we've had where we haven't had the rub of the green or decisions have gone against us for whatever reason."