Dan Burn sends warning to Manchester United with seven-word Newcastle United message
Newcastle United aren't going to Wembley for a day out, they're going their to lift the trophy - says local hero Dan Burn.
Watch more of our videos on Shots!
and live on Freeview channel 276
Visit Shots! now
There's a reason why Dan Burn didn't get his Carabao Cup final suit measured. The message is simple - Newcastle United aren't going to Wembley for a day out, Burn and his teammates are going there to make history, and win.
Re-enacting Paul Gascoigne's famous "I'm away to get me suit measured" one-liner after United's semi-final victory over Southampton, there was one burning question when Burn sat down with the local press during Tuesday's media day.
Dan Burn didn't get his suit measured
"No, we've opted against the suits," Burn replies. "I don't really like wearing a suit anyway!" Indeed, when explaining further, we journalists received a big insight into the Magpies' dressing room and their growing mentality.
"It's something we spoke about," Burn continues. "We've got a leadership group and just said we didn't want to make it where we're going for a day out. We're going to win and to have as little distractions as possible.
"That's what we've spoken about, those one percents, but I'm not going to say that's going to make a difference between winning and losing the final. We could wear suits and win or lose. But mentally those one percents add up and I personally think it's more a mentality thing.
"I know everyone is excited, the city is, that we've made the final. I'm not happy with just being in the final and I don't think the city should be either. We're getting to the final to win. It's a long time since this club has won anything and we want to be the team to change that."
Living his boyhood dream
Suits, tracksuits or whatever else, it'll be a very proud day for Burn and his Geordie family. He, of course, is a boyhood Newcastle United fan, and, like many other youngsters, suffered the heartbreak of being let go by the club.
"I wasn't signed on with Newcastle, so I was invited to train with a development team. I got a letter to say I wouldn't be getting invited back," Burn explains. "When I was training with Newcastle, that was it, I was going to be the best Newcastle player ever and beat [Alan] Shearer to his record. When you're young and naive you just think you've made it.
"It knocked me when I was a kid. You go to school and everyone hears you're not training with Newcastle anymore, and it affects you. But I've had a lot of these moments in my career, I've had quite a rollercoaster and it feels like it helps push me on to know that people doubt you and you can prove them wrong."
But the difference between Burn and those thousands of other lads is Burn made his way back - beginning at Darlington in League Two, going via the likes of Fulham, Wigan Athletic and Brighton, before sealing a £13million return to St James' Park last January.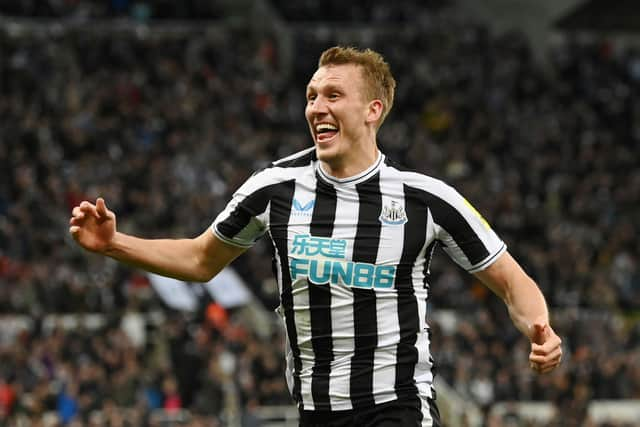 Following the PIF-led takeover in October 2021, Burn thought his dreams of playing for Newcastle were over, never mind having the opportunity to play in the club's first final since 1999.
"Probably not," says Burn when asked if he believed playing in a cup final for United would happen. "I've had an up-and-down career so just to get the opportunity to play for Newcastle was amazing and something I hadn't given much thought to.
"But the way we've managed to change the way we play, the league position, the way the club is being run, in such a short space of time, hopefully this isn't the one and only opportunity we'll get, it can be a catalyst for more finals in the coming years."
What about walking out at Wembley? "I'm trying not to think about it too much," he responds, "I'll be emotional knowing I'm walking out in a League Cup final for a club I grew up loving as a kid. But I think you know as you get older it's just another game and it's 90 minutes against Man United. Over 90 minutes, anything can happen.
'We're not there for a day out'
There was always an expectation the club would progress under the new ownership, but the surprise is how quickly that's happened. Burn's 13 months on Tyneside perhaps sums it up best - United have gone from relegation to top four contenders, and made a final.
"We always knew we'd get there at some point [but maybe not this quick]," Burn says, "We had confidence knowing we'd get there, but never the trajectory we've managed to do it in.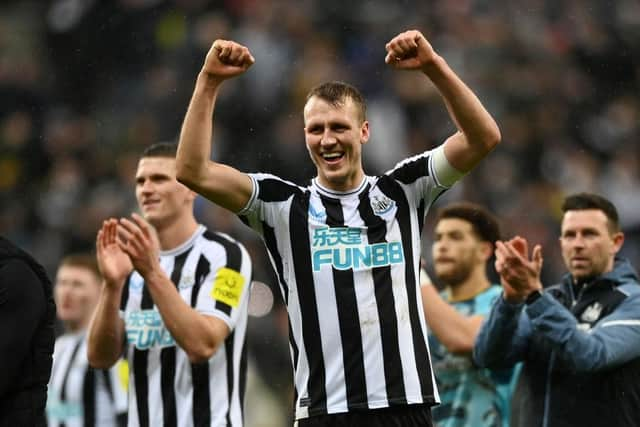 "We've definitely over-achieved this season, nobody would have expected us to be sitting fifth in the league and in a league cup final come February, but I think we deserve to be where we are.
"There's no luck involved. The way we go about our work every single day, not just the players but the staff who help us every day, there's no luck involved."
But now Newcastle are in this position, no one inside Howe's dressing room is just 'happy to be here'. To put it simply, Howe and his players want more - and that hopefully starts this Sunday when they have the chance to be the first Magpies team in 68 years to lift a domestic trophy.
"That should be the mentality to everyone," Burn says. "I've heard people say it's good to get to the final but I don't agree. It is good to get here but for a club the size of Newcastle and how long we've gone without winning, I think we need to win and we should have that mentality that we're going there to win."