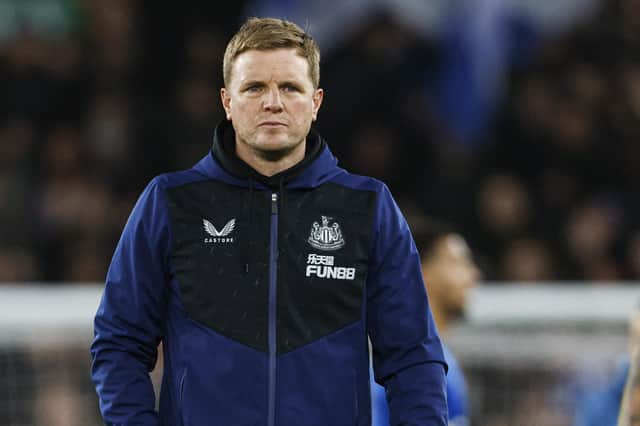 Eddie Howe has urged his Newcastle United squad to use their trip to Dubai to help them move on from defeats against Chelsea and Everton.
The Magpies players are spending time away from the North East for the second time this year after they travelled to Saudi Arabia for a training camp in December.
That trip was preceded by a hard-earned win at Leeds United as a Jonjo Shelvey free-kick gave Howe's side three points to boost their Premier League survival bid.
That win sparked a run of seven games without a defeat as the Magpies moved away from the bottom three and took a large step towards securing their top-flight status.
That run was ended by the controversial defeat at Chelsea before a lacklustre performance was punished by ten-man Everton prior to the trip to Dubai.
Howe revealed how he has reacted to that double setback and is determined to help his squad bounce back when they return to Premier League action at Spurs on Sunday week.
He told NUFC TV: "I don't think it's changed the way we approached it in the sense of the work we have delivered because the work was planned and detailed before we came out here.
"It's more an emotion that changes.
"So my emotion to losing is I take losing very personally.
"I've always been that way, I hate to lose anything, so when you're in my shoes, you need to control that emotion and make sure it doesn't harm the team.
"I am sure the players feel the same way, very disappointed with our last result.
"But they need to get that out of their system very quickly and look to the future because that's something we can affect.
"That's something we have to work towards now, trying to get a positive result in our next game."
This is not the first time Howe and several of his coaches have used the impressive Nad Al Shaba Sports Complex after they visited the site during a similar training camp with former club Bournemouth.
The Magpies boss hailed the facilities as "first class" and is hoping to make the most of them during United's time in Dubai.
"We'd used the facilities a number of times historically and for me, it's one of the best training arenas in the world.
"I think it's first class facilities.
"First of all, a first-class pitch, but the facilities around the pitch are second-to-none.
"The gym, we took the boys in to the altitude chamber today, which they really enjoyed.
"Swimming pool, hyperbaric chambers, cryotherapy chambers, we utilised everything we could to help the players physically.
"I think it's just nice to expose the players to that.
"When you really want to push the players physically, you need to have the highest level of recovery equipment to utilise and I think we have that here."