Eddie Howe has vowed to use the disappointment of Newcastle United's Carabao Cup final defeat to Manchester United as motivation to return to Wembley in the near future.
First-half goals from Casemiro and Marcus Rashford condemned the Magpies to a gutting defeat.
"It leaves us with a feeling of defeat in the final which is never nice," said the United head coach. "We're desperately disappointed but already for me, we look to the future. We're desperate to get back here and win a trophy.
"To see the supporters who have been absolutely incredible for us this season disappointed at the end hurts badly. The motivation and thoughts are already on how we can come back here and win the trophy they deserve."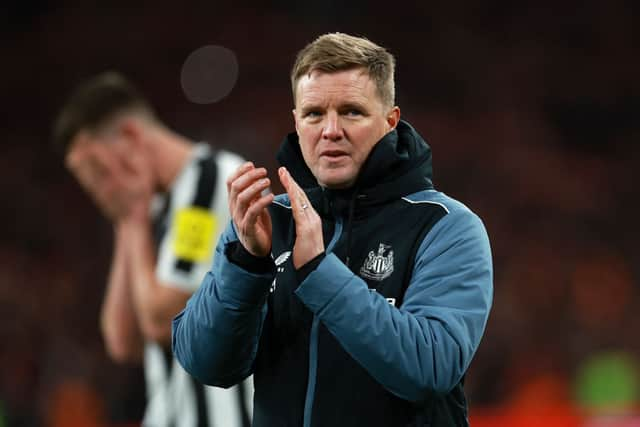 "Nothing is guaranteed in football," Howe added. "You have to earn the right to get to these latter stages of the competitions. We have to do that in the league to finish where we want to finish. The work starts again but I hope we're a different Newcastle and improving continually.
"Certainly in terms of the players' efforts and what they've given me, I can't criticise them at all this season. We're going to need that and more to continue to be successful."
Co-owner Mehrdad Ghodoussi tweeted after the game "this is just the beginning". Does Howe agree?
"I hope so but the competition is very, very high," said Howe. "We have to improve.
"We can't stand still or think we're something at this moment in time. We have to prove we are. Next year in this competition and the FA Cup, we have to go again with the intention of trying to win."