Eddie Howe on why Graeme Jones is the 'perfect match' for his Newcastle United coaching team
Eddie Howe has revealed the reason why Graeme Jones is a part of his Newcastle United plans.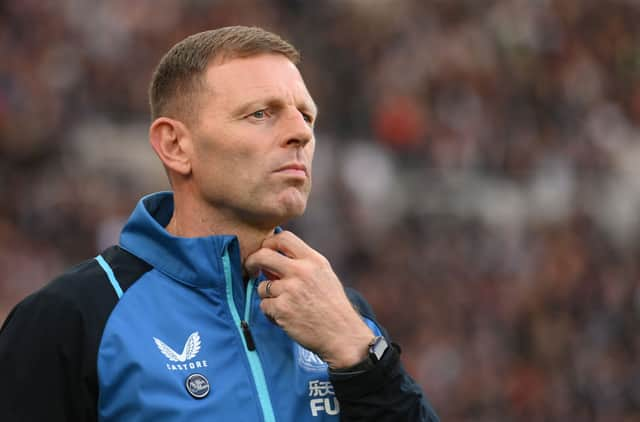 Eddie Howe believes Graeme Jones is the 'perfect match' for new look Newcastle United coaching setup - and here's why.
Howe has revealed he was already considering bringing on board a new face to his current coaching unit.
And with Jones already at the club - and highly thought of by Howe - it's the perfect fit, according to the new head coach.
'A perfect match for us'
"Graeme Jones is still in the mix and I am delighted to work with him," said Howe.
"Adding someone to my backroom team was something I considered during my break and it is something I positively wanted to do.
"So, having Graeme already here in situ, someone I know and respect and really like, I think it is going to be a perfect match for us."
Howe discusses his year out of football - and why he's better for it
Howe has not managed a club since leaving Bournemouth by mutual consent back in the summer of 2020.
And despite being out of the managerial firing line, Howe has not been slacking on the coaching front.
Trips across Europe, from Atletico Madrid to Liverpool, to learn, analyse and observe have proven beneficial for Howe, who thinks he's a better coach today than he was when he left the Vitality Stadium, despite the time out of the game.
"It has been huge," Howe said of his year-long sabbatical.
"I said I was going to take a year out, that wasn't put out publicly, that was just internal. It didn't matter what job came up in that year, I knew I need to recharge and reset and re-educate myself, take myself away from the thought of taking a job. I needed to commit to my family for a period of time and commit to coming back.
"Even when I am in work I have always wanted to improve, but that is even more important when you're out of work, away from the emotions being a manager can bring. You can take yourself to a different place mentally.
'More relevant than ever before'
"I have had some fantastic visits, once Covid rules allowed. I have been here, there and everywhere. And I think I sit here a better manager than I was. And I know some people may question that because I have been out the game, but for me I am more relevant and more attached than I ever have been in terms of what is happening at the top level."
When asked to expand on why he feels he's a better coach, and in what areas, Howe returned: "I feel more educated on certain things to do with the game. I feel more organised. I have sorted out a lot of my training sessions into a digital format. There are so many different ways.
"I feel my way of working now will be a lot more streamlined."