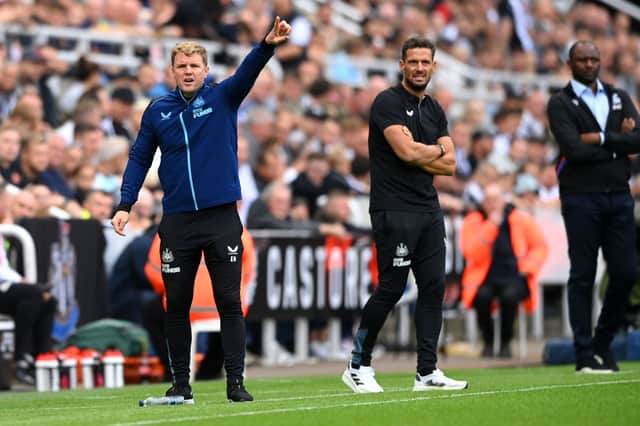 Following on from the late 2-1 loss to Liverpool at Anfield, United were desperate to bounce back with three points on home turf. But despite throwing everything at Patrick Vieira's men, the Magpies could not break down the door.
Perhaps the most controversial point of the afternoon proved to be the disallowed goal in the second period, when Tyrick Mitchell turned into his own net, only for it to be ruled out for a foul by Joe Willock on Vincente Guaita.
Here's what Eddie Howe thought of the encounter: "Everything we tried in and around the goal didn't work, even the one we did score. I disagree with the decision. I thought it should be a goal. I thought Joe was pushed. He is running in and is pushed into the keeper. I am not sure what Joe is supposed to do there. For me it is a perfectly good goal.
"You hope it is not one of those days where you get caught by a sucker punch. I have to credit my players for not losing focus and discipline. In terms of effort and the team pulling together it has been really good.
We should have more points. One win and a few draws that should be wins, but it is a long season. Performance levels are really good. I hope the football gods level it up and we get points maybe when we're not playing so well."