Newcastle United battled their way to yet another Premier League away day point - and this time it was Arsenal who were nullified in a 0-0 draw at the Emirates.
That result saw United hang on to third spot in the top flight table and maintain their unbeaten return to football after the World Cup. It was also the Magpies' sixth clean sheet on the bounce, setting a 40-year record.
Eddie Howe's United frustrated their hosts, who could have gone 10 points clear at the top with victory. And that was evident in the reaction of the crowd, players and in particular Mikel Arteta, who got into an altercation with the Newcastle head coach on the touchline over calls for a penalty in added time.
Addressing the penalty call and his issue with Arteta, Howe said: "At that stage of the game you are just thinking 'please no, the lads have given so much to the game. That would've been a travesty for us.
"I didn't think it was a penalty, just because of the proximity. But you just never know."
And on the Arteta incident, he added with a smile: "With me and Mikel, yeah it was fine."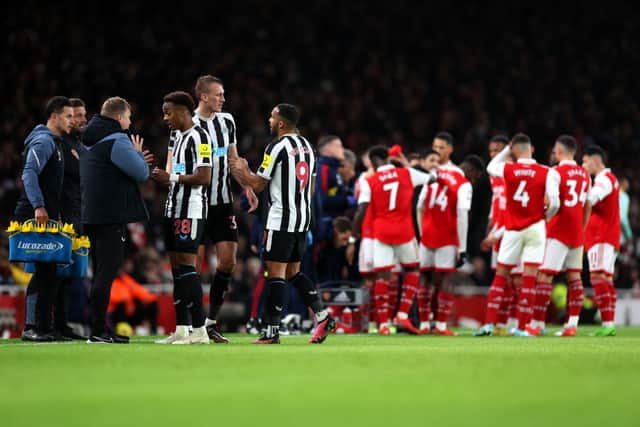 On United's defensive performance, Howe added: "I think a very good defensive display, very good teamwork.
"We weren't defending in ones, it was twos and threes. Arsenal are very good. They post you some very different kinds of threats, they really stretch you. There wasn't really a moment where we were really OK in the game. We did have our moments and could have potentially knicked it.
"I thought we settled after 15 minutes but they are a top side. Nick had one very good save to make. A lot of pressure but a lot of it in front of us.
"I was disappointed we couldn't pose them more of a threat. Our counter-attacking was at its normal level.
"We are reaching high but the lads are giving everything."