Eddie Howe reacts to Newcastle United's Nottingham Forest win - and that Fabian Schar strike
Newcastle United kicked off their Premier League season with a win over Nottingham Forest.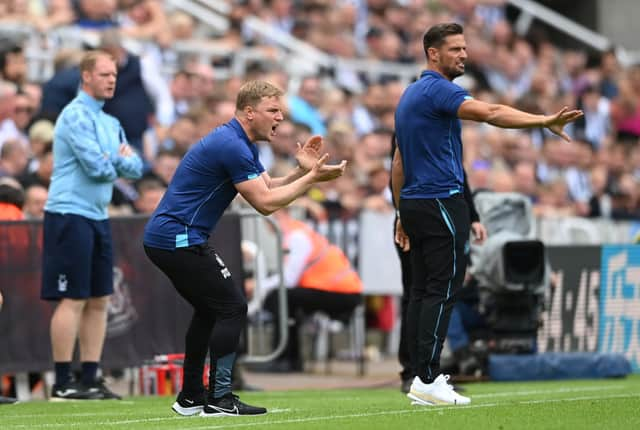 Newcastle United head coach Eddie Howe reacts on the sidelines during the Premier League match between Newcastle United and Nottingham Forest at St. James Park on August 06, 2022 in Newcastle upon Tyne, England.
Newcastle United opened up their Premier League campaign with a two-goal win over Nottingham Forest.
Eddie Howe's Magpies dominated the newly promoted side from start to finish at St James' Park - and the two goals that won it were right from the top drawer.
Fabian Schar's second half cracker broke the deadlock before Callum Wilson continued his Premier League opening day goalscoring record for the Magpies, making it three in three.
And here's how Eddie Howe reacted to the win:
"I'm feeling very positive after watching that – I thought the players were excellent from start to finish. It was a performance of real promise.
"I'm always going to push the players for more – I said at that half-time, we had produced a very positive performance until the last action. We need to be more ruthless as we know tough this league can be.
"It was missing the icing on the cake – Fabian brought that. When he was lining up to shoot I was questioning his decision but it was the right one. He's capable of the unexpected.
"We've got a few weeks left to try to get the right player that will make a difference for us."