Magpies fan group Wor Flags unveiled a flag in honour of the Paraguayan following derogatory comments from Jack Grealish.
Grealish, during City's Premier League title celebrations in May, said the "secrets" behind the 3-2 comeback against Aston Villa on the final day of last season was Riyad Mahrez being substituted because he "played like Almiron".
There was a lot of pre-match talk surrounding Almiron and Grealish coming face-to-face for the first time since, however the City winger was ruled out through injury.
Almiron, meanwhile, showed up Grealish's classless jibe even further by scoring a first half equaliser after he bundled home Allan Saint-Maximin's cross.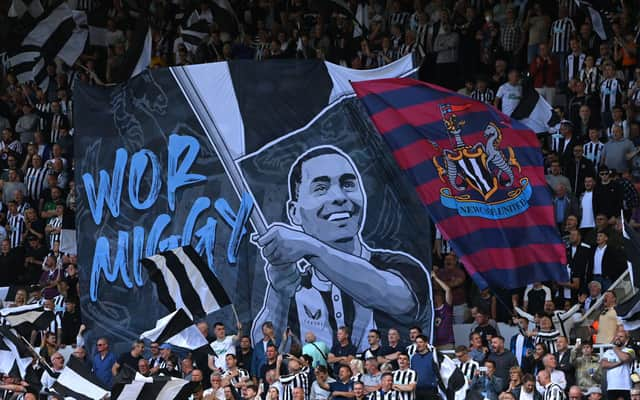 "Miggy's carried on his pre-season form into the season," Howe told NewcastleWorld. "The three games he's had this season in the Premier League have been magnificent. On and off the ball, he's been very, very solid. I'm so pleased that he got the goal today.
"What a gesture from the supporters here - very understanding, very knowledgeable and very caring towards the players.
"That would have been a lovely touch for Miggy, he would have really appreciated that. It was great to see him get the goal with that acknowledgment from the supporters."
Almiron's goal cancelled out Ilkay Gundogan's equaliser before Callum Wilson and Kieran Trippier put United into a 3-1 lead.
City, however, hit back with two quick-fire strikes from Erling Haaland and Bernando Silva.
Asked about the role of the St James' Park crowd, Howe added: "We always get that when we give them a reason to show it. I always think the responsibility is with us.
"I feared going 1-0 down in the game and what that would do to the atmosphere but as soon as the goal went in, the crowd responded. That really helped us get our foot into the game.
"From that moment onwards, they were outstanding. Even when Manchester City came back into it they were still there for us."