Eddie Howe responds to Jurgen Klopp's Newcastle United 'time-wasting' claim vs Liverpool
Eddie Howe has responded to accusations that Newcastle United time-wasted against Liverpool in midweek.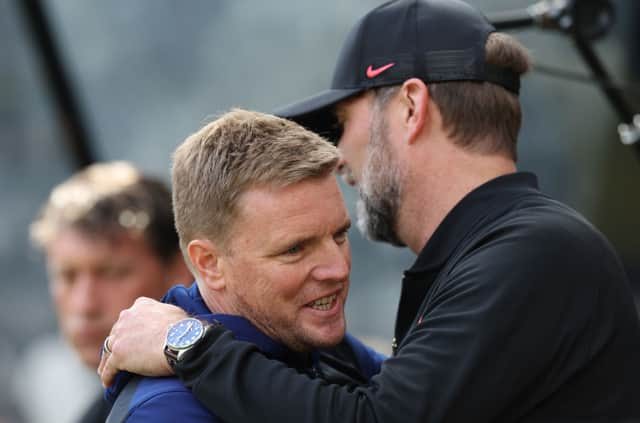 But ahead of this weekend's clash against Crystal Palace, Magpies head coach Eddie Howe has refuted those allegations from Merseyside.
Fabio Carvalho won the match for the Reds with virtually the last kick of the game after Roberto Firmino cancelled out Alexander Isak's debut goal.
Temper flared between both benches at full-time, with Newcastle players booed off by the Anfield home crowd.
What Jurgen Klopp said about Newcastle's 'time-wasting'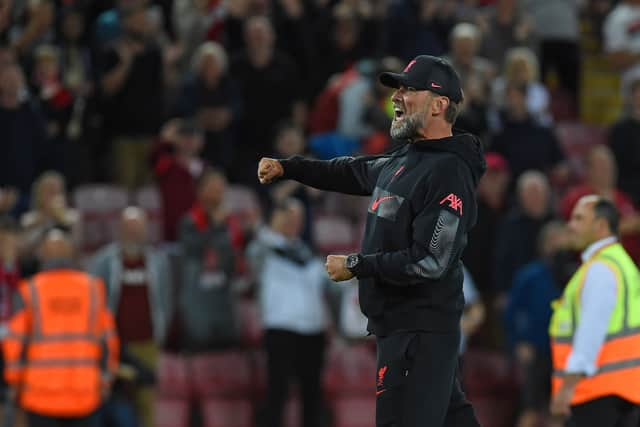 "I am really happy that everyone saw it tonight," Klopp said when asked about the apparent running down of the clock. "It was hard to take.
"I had no idea if that tonight was on purpose or if their players really had to go down because slightly injured. I don't know."
He added: "The game was just interrupted constantly for some reason and that doesn't give you the momentum. There was no chance to gain any kind of momentum.
"Perfect moment that we scored after 98 minutes. It was the perfect response to everything that happened during the game."
Eddie Howe's response
The accusations of time-wasting were put to Howe during his Friday press conference and he defended his players.
"Of course we refute it," said the 44-year-old. "If you look at just the pure physical side, we had one day less recovery and then we are playing at Anfield. Our players gave everything physically.
"Matt Targett hadn't played a lot of football leading up to the game and went down with cramp, Joelinton went down feeling his ribs and had cramp. It was down to the preparation time we had.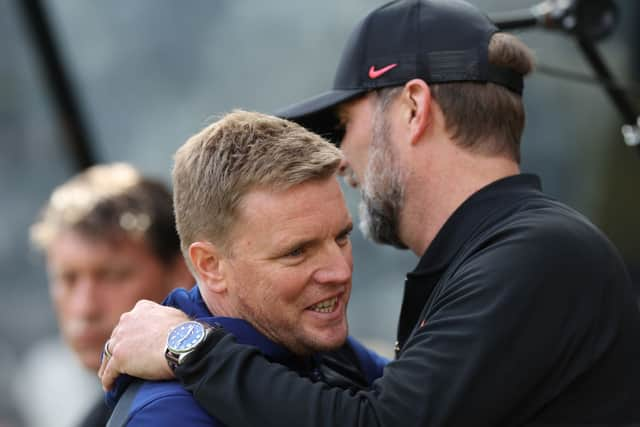 "Liverpool had an extra day and of course the conditions of the game. It was a bit bitty in the second half with substitutions and there was certainly no gamesmanship on our side. That's just the way the game went."
""That is their opinion," Howe added. "I'm not concerned by their opinion.
"We know what we were trying to do. We were trying to win the game. I've given reasons as to why there were stoppages.
"Nick Pope went down twice, the first time he was feeling a bit dizzy, the second time, I think he fell on his back. I'm not sure there's a lot we can do there."
Late heartbreak for Newcastle
There was controversy surrounding Liverpool's winner after scoring in the eighth minute of stoppage. That is despite five minutes being allocated by Andre Mariner.
Howe, although insists the game should have ended well before Carvalho's strike, refused to blame the referee for the last-gasp defeat, when brought an end to the unbeaten start.
"I thought the game should have ended with our last attack, looking at the time and having gone back through it," Howe said.
"When Joelinton skips to the by-line and puts the cross in, we had that last attacking action. I think that's time, the moment to end the game. He obviously didn't."
He continued: "Saying I was very calm after… maybe calm externally but internally there's a whole range of emotions going through your body at that time.
"It's my job to address the media and gather my thoughts very quickly and put myself in a different place where I have to respond the questions I'm asked.
"From my own mind, I was revisiting that last couple of minutes. It never went away that night, even when I was rewatching it.
"From the team's perspective, we didn't get that last couple of minutes right and when you consider how well we managed the rest of the game, it's a huge frustration because the game was there to take something from it and we didn't.
"We have to look at ourselves. I'm not going to sit here and blame the referee for the time played, that's somebody else's job. My job is to coach and manage the team and we needed to manage that last part better."