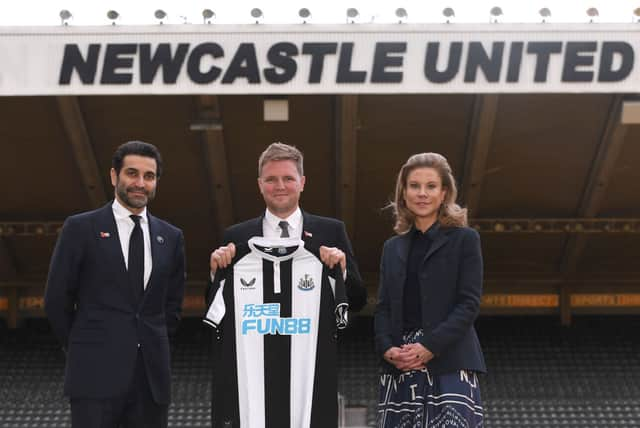 Newcastle United head coach Eddie Howe has described the feeling of being mathematically safe from Premier League relegation as "amazing".
The Magpies officially secured their top-flight status on Wednesday night following 18th place Leeds United's 3-0 defeat to Chelsea at Elland Road.
For United to be safe from the drop with two games to spare is quite an achievement, something Howe admitted even he didn't expect.
Things looked bleak at the beginning of the year with history stacked against Newcastle. No team in the Premier League ever that failed to win any of their opening 14 matches had survived.
But Howe's side surged away from trouble in the most remarkable way - collecting 32 points so far in 2022, form bettered only by title-chasing Manchester City and Liverpool.
Admittedly, safety has been all-but guaranteed for the last month or so but to now have that confirmation is cause for celebration on Tyneside as ambitious plans for next season get underway.
'An amazing feeling'
"It's an amazing feeling," Howe said when asked about being mathematically safe. "It's very difficult to comment when you feel potentially you don't have enough points or it's not mathematically certain. You're always wary of making bold statements that turn out to be incorrect.
"It was great to finally achieve the objective we've set out to do. Full credit to the players who from minute one have given us everything and everyone associated with the club has played their part in what has been a remarkable turnaround in form, which we needed.
"To have two games spare to do it in is not something we thought we'd be able to do but it's great to be in this position."
Newcastle co-owners Mehrdad Ghodoussi and Jamie Reuben provided their reactions on Twitter and have spoken directly to Howe, the Magpies head coach revealed.
'I've had contact with the owners'
"Yes I've had contact with the owners but I have contact with the owners regularly, especially at this time of year as we build and plan for lots of different things - the training ground and transfer windows etc.
"They're happy with what has been achieved. The main goal we had when coming in has been done, so everyone connected with the club, the owners included, deserves a huge amount of credit for what's happened.
"It's very much a team success and I'm very keen to point out that everyone has contributed to that."