Eddie Howe has welcomed Unai Emery back to the Premier League but admits his return brings added competition for Newcastle United. The Spaniard was announced as Aston Villa's new manager earlier this week but won't be in the dugout when the two sides meet at St James' Park on Saturday.
Villa sacked Steven Gerrard after sitting 17th in the top-flight table with just two wins from their opening 11 matches. Similar to the Magpies, the Midlands club have ambitions to compete for the European spots and have backed former Arsenal boss Emery to get them there.
Newcastle currently sit fourth and a strong start to the campaign has created growing optimism that Howe's side can qualify for Europe for the first time in a decade. But Emery's appointment could give United a new rival to consider, according to Howe.
"I've said many times, Unai is a fantastic manager with an unbelievable record in various countries, in Europe especially. It's a brilliant appointment by Aston Villa," the 44-year-old head coach said.
"It's great for the Premier League. We want the best coaches and players. We want the product to be the best it can be and from my side, it helps me learn and grow and become better.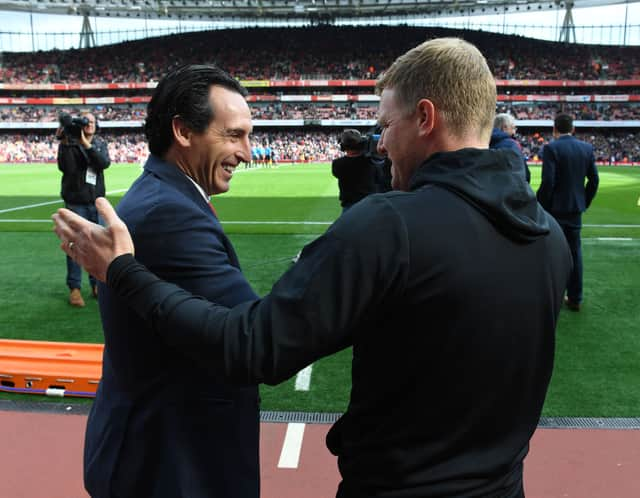 "Unai is a very good manager and he will add to the quality in the league. It's a brilliant thing for the Premier League but maybe not so great for us because the competition gets higher. But that's where we want to be and we have to improve to continue to succeed."
Emery won't take charge of Villa until after their game at St James' Park. Aaron Danks will take charge for the second consecutive game and will look to build on last weekend's thumping 4-0 win over Brentford. Howe is expecting a difficult game.
"Last week, they did very well. I watched the game in depth and I thought they started with such a high intensity," Howe added. "You could sense, although I don't watch the games with the volume on, the crowd and the vibe of the stadium was very good. They scored a couple of goals very quickly and you saw a team full of energy and enthusiasm.
"You could see the quality of their players as well and I think Aston Villa do have a very good squad. We expect a very difficult game and know we're going to have to be at our best, as we are in every Premier League game, to win. They're going through this period where they're waiting for their new manager to come in and we expect a reaction because of that."