Eddie Howe has expressed his disappointment at those who insist Newcastle United's resurgence is 'purely about money'. The Magpies have spent £210million on new signings in 2022 but Howe, quite rightly, believes the recent success is also down to the players he inherited.
While the likes of Nick Pope, Sven Botman, Dan Burn, Kieran Trippier and Bruno Guimaraes starred in United's 2-1 win at Tottenham Hotspur on Sunday, existing players Fabian Schar, Sean Longstaff, Joe Willock, Joelinton, Miguel Almiron and Callum Wilson also played their part. Indeed, it was the latter two players both on the scoresheet in North London.
Joelinton was last season's transformation story, going from a £40m flop to an all-action central midfielder. And this campaign, it is Miguel Almiron's turn, with the Paraguayan the club's top scorer with six goals so far - including five in five games.
However, some outsiders fail to acknowledge that, instead pointing to the lazy narrative that it's all about money. Howe, speaking ahead of Saturday's clash with Aston Villa, has responded. He said: "My disappointment when it's just 'purely about money' will be it takes away the credit from the players and I would want a lot more focus to be on my players and how well they have done.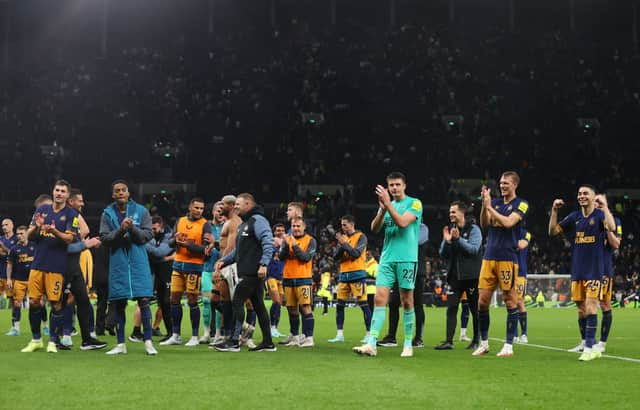 "The players you have mentioned have done brilliantly for us and they weren't bought by me recently. The contribution that they have given should not go unnoticed and with the players that you do bring in, money doesn't buy success or guarantee success. It certainly helps but it does not guarantee anything. You can recruit very badly and, these days, that will cost you a huge sum of money. It's about a mixture of things but I always want my players to be recognised when they do well."
Rather than go for the 'superstar' signings with perceived egos, Newcastle have recruited smartly, signing players whose personalities fit into the dynamics of the current dressing room. Having fought off Premier League relegation to now sit in the Champions League spots, the club's recruitment is paying off.
"You need to be a very good player to play for Newcastle but then you need to buy into everything surrounded with that," Howe said. "That means moving to the area and relocating your family and really giving yourself the best chance to be successful here. If you have those characteristics and that commitment from the players, you have a much higher chance of success. It doesn't guarantee you anything but it increases your chances."