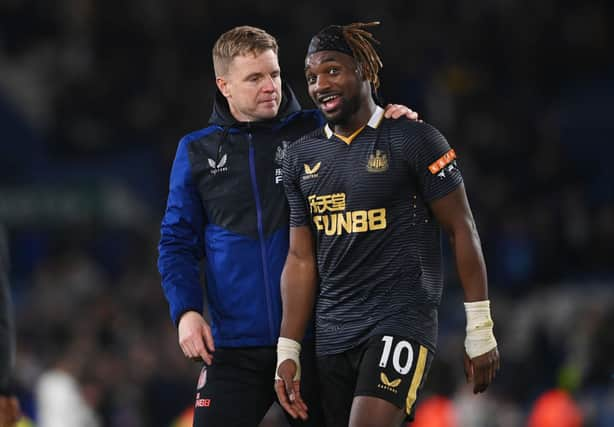 Eddie Howe has called a team meeting to prevent any fallout from Allan Saint-Maximin's interview in France.
During an interview with French publication So Foot, the 25-year-old, as translated, appeared to suggest that he would have more assists in a team with better strikers.
He said: "The day I have a player capable of finishing actions, I will make seasons with 10-15 assists, and I will change dimensions in people's heads.
"Inevitably, you're prettier in a team that rotates than in a team at the bottom of the table, it's completely normal."
Magpies boss Howe was asked about Saint-Maximin's comments ahead of the trip to Manchester City - and here's everything he said on the topic:
Did you see the Allan Saint-Maximin quotes? Have you spoken to him about them?
"I saw the quotes, spoke to Allan. I need to make this clear that Allan's quotes didn't come across in the way that he meant them to. He was concerned yesterday. We spoke. In no way did he mean to damage the team or unity we've built. He said things in an interview but as I said, it wasn't in the context that he meant, although it happened.
"We will be speaking with the squad and making sure there is no fallout from that because the unity has been our strength. It's vitally important we keep that."
Out of context - what did Allan Saint-Maximin say that he meant?
"I think it's just come across in the wrong way. You'd probably have to ask Allan what he meant by it, but it definitely wasn't meant, I don't think, as a criticism towards his teammates. I think it was more based around him rather than his teammates.
"Again, it's difficult for me to comment on something someone else has said, but definitely Maxi was concerned yesterday. He came to see me and if he had meant those comments in the way they have come across and been published, then he wouldn't have been in my office concerned about the reaction.
"It's something that I'll try to obviously speak to the guys today and make sure there's no fallout from."
Have you accepted his explanation?
"Yes, of course. It's very difficult when things have been translated from another language, so I think that's always a slight concern, but yes I was happy with Maxi's explanation of it."
Can we take from your reaction that you're not happy that it's happened?
"Ideally, I wouldn't want any of my players speaking about anything other than themselves or their own career. Players don't need to talk about other players or other players from other clubs.
"For me, it's always about us and protecting the team and everything we say. It's about giving off united and positive messages, even in difficult moments."
Has he been made to apologise and will he be fined? Are you concerned about his mood?
"No concerns over his mood. I don't think I'll be fining him for that situation, it's more a case of education and making sure players know what we expect."