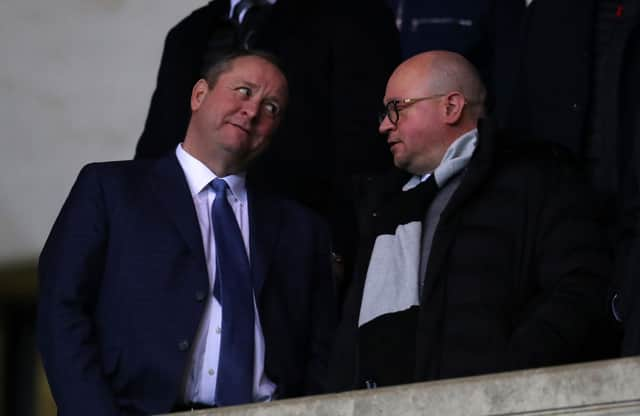 It's lonely out in space... well, Portugal to be more precise - sounds like he might be back now, by the way. Back with a bang, eh?
The relationship between Steve Bruce and Newcastle United's top brass has never been so strained. Not a great look for a man who through circumstance, not being the man he replaced, and some ill-chosen words, and plenty of awful performances and results, and poor management and a lack of empathy, despite claiming otherwise, is totally alienated and disconnected from the fanbase.
Despite supporter resentment, Bruce could always fall back on his relationship with Sports Direct duo Mike Ashley and Justin Barnes and NUFC hired-hand Lee Charnley.
When things got tough with the keyboard warriors, 'it's OK, they've got my back'. When we need an experienced striker pronto, 'go get Callum Wilson'. Flirt with relegation while stinking the place out for months, 'is the current length of contract good for you, Steve, or would you like more?'.
But times are changing. He's still standing, but on much less steady ground - and Newcastle United's latest statement, probably their most bizarre, yet revealing so far, underlines the cracks that have formed within what seemed a rock solid connect between head coach and hierarchy.
This was Steve Bruce's wish - and the club want him to own it
Rumours of Bruce's anger at the close of the transfer window without at least one signing other than Joe Willock were leaking out well before he reportedly jetted off on an international break post-deadline.
Many a deal has been brokered from his Portugal pad in the past - he was particularly prolific when at Aston Villa - but this trip sees him counting not only the cost of going 'all in' for Willock and underestimating the financial stance of United's 'penny pinchers' but also picking up the pieces of the bond with Ashley & Co.
No sooner had those 'Bruce is angry at NUFC' and 'he's been stitched up' stories began to circle on social media, the club moved to nip them in the bud with a statement.
It read: "The last two years have been challenging, with Covid-19 having a considerable impact on the club's finances and therefore the amount of cash we have available to spend. Internally, all parties have long been aware of the budgetary parameters under which we are operating."
That means, in layman's terms, they want everyone to know that Bruce has known all along United were in a tough financial place (choose to take the financial issues bit as fact or not).
This, to me, sounds like a slap down to any dissent that may, or may not, be coming from the head coach himself and his allies.
It goes on: "Ahead of the summer transfer window and having made a significant impact after arriving on loan in January 2021, Joe Willock was identified as the club's primary target. Once it was confirmed that the player would be available on a permanent deal, a collaborative decision was taken to pursue this option. All parties were aware as to the implications for further squad consolidation, with the collective view being that securing Joe Willock was the right priority. There was a shared understanding that further additions to the playing squad would be heavily influenced by player trading, both in terms of available funds and space in the squad."
Again shouting it loud and clear that the signing of Willock was agreed collectively, manager and club in tandem, and both knew any further deals would require sales to finance.
We know, this never happened. Sorry, but sending Matty Longstaff on loan to Aberdeen was never going to open up the doors the head coach seemingly thought it would. Who'd have thought it?
Furthermore, on doing the Willock deal in instalments, it states: "In negotiating/securing this deal post Covid-19, we acknowledged the need to make an exception and, on this occasion, have spread the transfer fee over instalments. We did so this summer to secure a player who we know makes us stronger and who our head coach was unequivocal in his desire to sign."
You were "unequivocal" in your want for this Steve (although never mentioned by name), now live with it. Paraphrasing the club's words here, not mine.
A side note. This statement wasn't even signed by Charnley, Barnes or Ashley. Just left hanging, no author, no accountability. Another blow.
The financial explanation - an unexpected bonus, like or loathe
The take down of the head coach was, for me, the stand out line of the statement - and one that was hard to miss in what was otherwise some quite honest (seemingly) explanations as to why certain decisions were taken.
In fairness, a privately-owned club don't need to explain any deal to their fans, or how their financial dealings are conducted. That's sad but largely true.
It was a step in the right direction in many ways, but still contained a slap for fans in the opening stanza.
"Our commitment to being run in a sustainable manner, which secures the financial viability of the club, is a longstanding one. This does not come at the expense of being ambitious, and it is built on the core principle that we will spend what we have."
Yeah, right. Ambitious? Tying one hand behind the club's back and expecting it to swim is not ambitious, not when you're in a shark tank like the Premier League.
The statement underlines a lot of what was already known about United's financial model. It highlights how there is one pot of cash which lives or dies by commercial revenues and player sales - Rafa Benitez used to speak at length about this in frustration at a lack of infrastructure investment.
It explains a wider thinking behind this financial modelling. It states: "In a 'normal' year, our operating model would generate sufficient funds to enable us to make one or two quality first team additions, as well as investing in other areas." Of course, due to the impacts of Covid, they claim, this has been no normal year.
It details the club's balance sheets since summer 2019, how their one or two signings approach rings true and how much they've given and taken in that time, equating to a roughly calculated and, in their own view, ever fluctuating £120million. They also claim to be the 10th highest net spend in the Premier League this summer. Well, that does only work if the Willock cash was paid up front. The statement confirms this not to be the case.
Other takeaways include a bite at fans asking 'where's the money gone, Mike?'.
"To suggest otherwise is misleading and claims that money has been taken out of the club are wholly untrue."
A bizarre claim they've hung on to players no clubs placed bids for.
"The club retained its best players despite the obvious financial challenges."
And proof that last season's end of campaign surge has underlined the thinking that this group is good enough, without the need for recruitment.
"Having finished last season in 12th place in the Premier League, and in the top six of the form table over the final nine fixtures, the club at all levels maintains a strong belief in its current squad. We have a talented and committed group of players who have shown that they are fully capable of delivering and we ask all our loyal supporters to get behind their team, because we are stronger together."
Practice what you preach!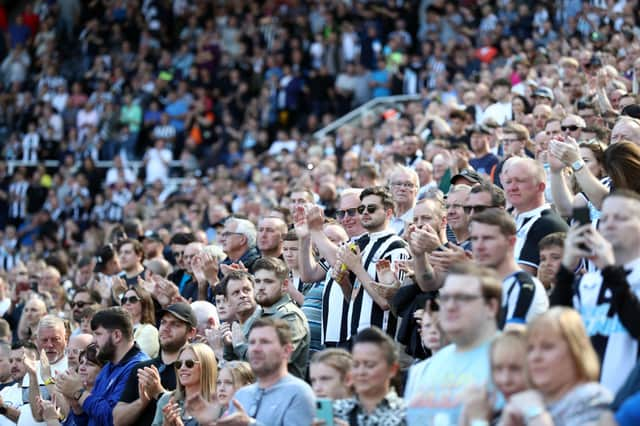 So what next for Bruce & NUFC?
An uncomfortable job, feeling less and less welcome.
Bruce considered his Newcastle United future at the end of last season, and was advised by some close to him to walk away. He didn't. He wanted to prove doubters wrong, to continue where he left off in the final nine games.
This latest blow has no doubt knocked that surety.
Bruce heard loud and clear against Southampton that he's not the man for a sizeable population of match goers. The trolls have come from under their bridges, I suppose. Or maybe, just maybe, the Covid bubble, fan lockout safety with its football echo chambers and unaccountable matchday experiences painted the wrong picture for Bruce. He won't be alone in that, mind.
Now, fresh on the tail of that 'in your face' blow that swirled out from the Strawberry Corner, Bruce not only had to contend with a deadline day dent in not getting Hamza Choudhury and A.N Other, but now a club statement, anonymously written, attempting to absolve themselves of transfer blame AND claim the head coach was complicit. A dagger to the heart of the Bruce and Ashley relationship, widely understood to be a positive one from day dot. No longer, it seems. Friends look hard to come by for Bruce at NUFC at the moment.
This is a toxic cocktail full of mistrust and loathing - and one Bruce must be finding rather unpalatable. He was told it would be like this, mind. Ashley's Newcastle never changes. Same issues, different dates.