Newcastle United again failed to capitalise on a home game, this time against a Premier League side without a win this season.
Positives may feel like few and far between for Steve Bruce & Co at the moment - although the head coach always manages to find some. Here we take a look at some lessons Bruce may have learned from the 1-1 draw, including how a system switch should probably become a more permanent thing.
Has the penny finally dropped on the 5-3-2 formation?
Let's hope so. United looked better when switching to a four at the back.
The manager and his coaches have persisted with the 5-3-2 formation all season and it has looked shaky at the back, while limited going forward.
With Sean Longstaff pushed on and Isaac Hayden shifted into midfield, the Magpies seemed to carry more threat - and looked ever so slightly more solid defensively, albeit, in a very open fixture.
Karl Darlow was more of a calming presence in goal. Plain and simple
Injury, according to the head coach, kept Freddie Woodman out - and Darlow looks to have done enough to retain his place back in the side with a solid performance.
Some shaky fumbles and an inexplicable storm out of his area early in the second half were totally forgotten when he diverted a Jamaal Lascelles header away from goal. His confidence then grew exponentially.
Darlow's experience could prove invaluable as United's search for three points goes on away from home.
Isaac Hayden is a midfielder, not a defender - for now
Blamed by Bruce for Cristiano Ronaldo's second goal at Old Trafford, it was a surprise to see Hayden again used on the right-hand side of a three man central defensive unit.
And, to be honest, he started where he left off last week, looking slow to react to a number of early Leeds attacks down the right.
But, with United really struggling to get to grips with the game, Hayden was shifted into his more familiar defensive midfield role - and shock horror, it suited him to a T.
He tired badly, probably due to not long being back from injury, but he gave the Magpies a solid base upon which to build.
Is it time for Miguel Almiron to drop out of the team?
This was probably one of the worst games the Paraguayan has played in black and white.
Just when Almiron looked to be finding a little bit of form against Manchester United, he dipped well below his levels against Leeds.
He gifted possession to the opposition at will and was given little to no attention by referee Mike Dean, who was in no mood to buy his diving act.
It would be no surprise to see the player drop out of the side at Watford, although Bruce has remained loyal to the player during previous dips in form.
Much-improved Sean Longstaff shows he has multiple strings to his bow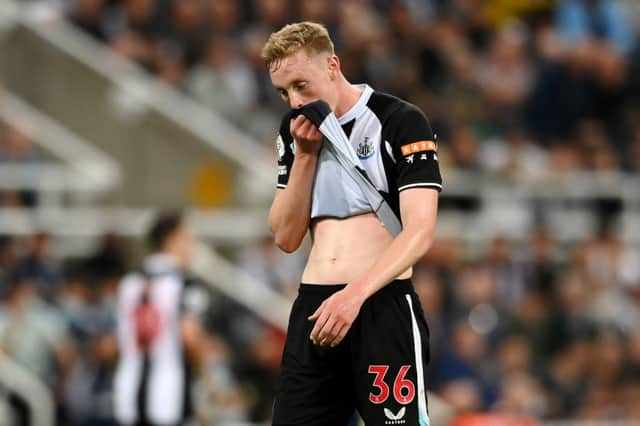 Having excelled in a deeper midfield role at times lately, Longstaff was pushed much further forward as United went to a 4-2-3-1, the player operating in the attacking position behind Allan Saint-Maximin.
This switch allowed Longstaff to drop into pockets of space between the lines, and he pressed high with intent against the Whites.
This performance will have given Bruce plenty of food for thought - and despite recent struggles, Longstaff's improvement has been one of the rare plus points of recent weeks.