Garang Kuol had "offers from some of the biggest clubs in the world" before joining Newcastle United.
That's according to Nick Montgomery, head coach of Central Coast Mariners - the A-League club the Magpies have agreed to sign the 18-year-old from.
Newcastle announced the arrival of the Australian wonderkid on Friday morning but he won't officially join until the January transfer window opens.
Kuol will remain down under until the New Year before likely joining a European club on loan to help collect the required points to qualify for a UK work permit.
That said, a call-up to Australia's World Cup squad would strengthen his case for a work permit. Kuol recently made his Socceroos debut in a 2-0 win over New Zealand.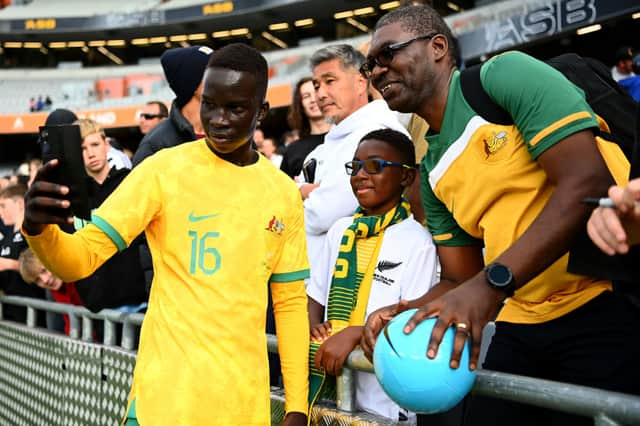 Kuol's emergence on the A-League scene, as well as impressing in an All-Stars match against Barcelona, has seen him labelled Australia's hottest young prospect.
The Egyptian-born attacker had the opportunity to join several clubs, and Montgomery believes Kuol's decision to join the Magpies is a "great move".
Garang Kuol had 'offers from some of the biggest clubs in the world'
"Montgomery explained: "He had offers from some of the biggest clubs in the world - but he's joining a club that's looking to get some of the best young talent out there and develop it.
"It's a family club, a club whose fans love to see young talent and embraces players from around the world."
Newcastle have sold Kuol a pathway of breaking into the first team "in the next couple of years", according to Montgomery, who warned Kuol to stay clear of distractions such as partying.
A pathway into the first team
"I remember when (Colombian) Faustino Asprilla went there (in the mid-90s) and I and thinking 'what an unbelievable talent'," Montgomery added.
"It's quite clear they have a pathway to get Garang in the first team in the next couple of years.
"As long as Garang stays away from the partying and the things that can distract young players he'll thrive.
"He's a sensible lad, has a good family behind him and his focus has to stay on becoming the best player he can be."
Kuol has wasted no time in embracing his new club. On Saturday, the player was pictured among the 2,300-strong away fans at Craven Cottage to watch the 4-1 win at Fulham.