The duo go head-to-head in a Wales versus England World Cup derby tonight (kick-off 7pm), with Bale's side needing to win to progress into the knockout stages.
England, meanwhile, must avoid a defeat by a four-goal margin to qualify but three points will guarantee top spot in Group B. All that, combined with local British bragging rights, is set to make it a tense evening at the Ahmed bin Ali Stadium.
Friendships will no doubt go out the window but in the build-up to the group decider, Bale and Trippier were full of compliments for each other. Both players developed an off-the-field bond when Bale was at Real Madrid and Trippier was at Atletico.
"We met up quite a lot," Bale revealed. "Our families were together quite a lot so yeah, I know Kieran really well and his family.
"He did great when he came over. It's not easy to move abroad as a lot of Brits don't do it. So we were there to help, try and help them because we'd been there for a while.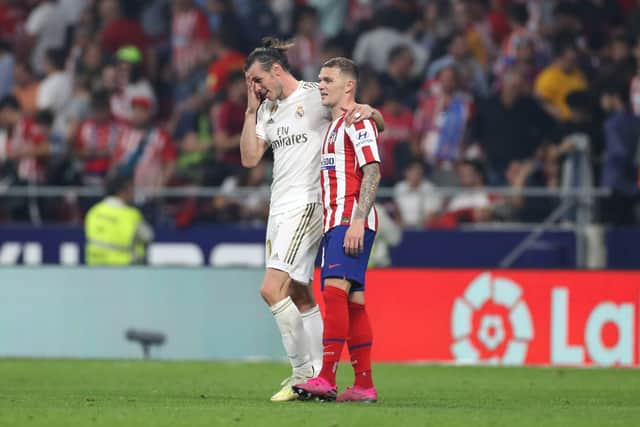 "He's obviously done well since he's gone back to Newcastle as well. He's been performing well for England so we look forward to facing him tomorrow."
Trippier too spoke highly of Bale, hailing the Welshman as one of " Britain's greatest-ever players".
The Magpies right-back said: "Gareth has won five Champions Leagues and three LaLigas so he is certainly up there as one of Britain's greatest ever players. He was at Real Madrid for nearly 10 years and you don't see many players survive that long there if they are not top players.
"But Gareth has shown ever since he has been in charge how strong we are defensively. In 2018, we had a good defensive record and at the Euros as well. You need to be defensively strong at tournaments. If you don't, you will not succeed. We need to keep clean sheets.
"We have great attacking players and depth in those positions but ultimately you need to stop goals going in as well, ultimately need balance. Gareth knows and understands that we need balance and he has shown that in the past few tournaments."