'Great guy': Newcastle University student on having art bought by Newcastle United star Allan Saint-Maximin
Architecture student and Magpies fan Ed Pettitt had the brilliant chance to create custom art for Allan Saint-Maximin.
Watch more of our videos on Shots!
and live on Freeview channel 276
Visit Shots! now
The Newcastle University student entrusted by Newcastle United winger Allan Saint-Maximin to create a custom piece of art has opened up on the process behind the scenes.
Ed Pettitt is an Architecture student from Cheshire who spends hours working on his hyperrealistic artwork in his free time.
Despite originating from the North West, the artist is a Magpies fan himself after building a "close connection" with the city whilst his sisters were at Newcastle University.
He said: "When my sisters came up to Newcastle it dawned on me I should start supporting these and then it just grew on me. I can't stop supporting now!"
Ed's love of the football club led him to an early session of Saint-Maximin's very own Helios game at ABOVE bar in Newcastle, where his journey to making the artwork began.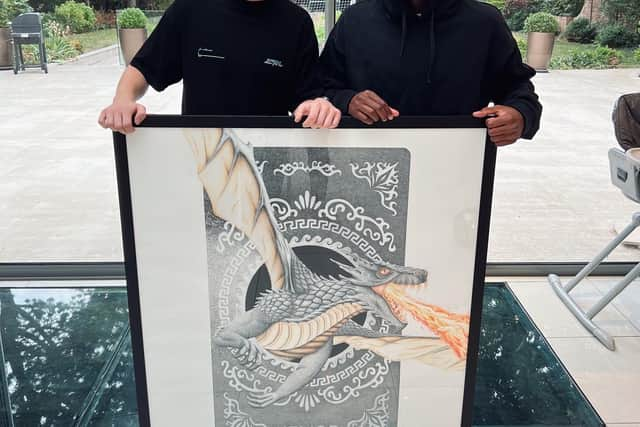 Ed said: "In February I went to the tournament and spoke to Allan, which is when it all started.
"It happened at the student tournament. We played the tournament and then towards the end I approached Allan with my artwork - drawings of football shirts and shoes and stuff - and he seemed pretty keen to get me doing something with Helios."
As Saint-Maximin and his team commissioned two designs, the young artist admitted to being a little nervous at first, but was keen to take the opportunity to get his name out there. Any nerves were quickly squashed when a beaming Saint-Maximin laid eyes on the final piece last month.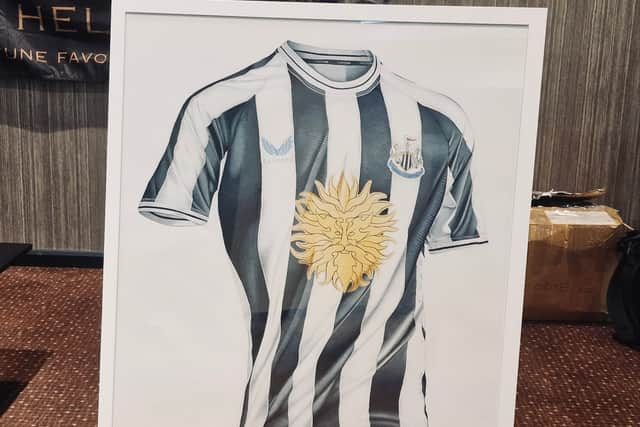 He said: "It was a big opportunity for me, really exciting. You don't know what he's going to think of the final piece but just have to have confidence in your own ability."
Both of the pieces created by Ed relate to the Helios game. The first is a black card and the second is a dragon's head on the front of a Newcastle United shirt.
For those who aren't familiar with Helios, here's how Saint-Maximin explained it in December last year. He said: "I worked on the board game for two years. I'm really happy as I think we reached our goal - to bring different emotions, a lot of joy and generosity. People can win quite a few things through the game, which is a great achievement for me.
"Helios is often regarded as the God of life and creation who brings joy to people's hearts. It comes from Greek mythology, just like the game."
The winger is of course known for his larger-than-life style on the pitch at St. James' Park, and Ed heaped praise on his idol off the pitch too.
He said: "He's really generous and friendly. I'm sure he's seen a lot of artwork before, and he still showed a real interest in mine. He gives away loads of stuff and that is genuinely what he's like. A great guy."
Anyone wanting to commission Ed Pettitt or find out about his artwork can reach out via Instagram DM here.