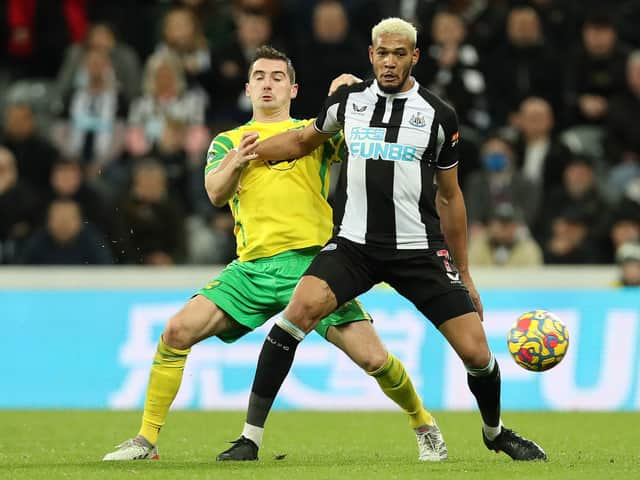 The Brazilian's improvement under Howe has been a major talking point among fans having previously struggled after his club-record move from Hoffenheim in 2019.
Joelinton was the main topic of discussion at Howe's pre-match press conference on Friday - and here's everything he had to say about the 25-year-old:
Howe on Joelinton
"Joe's been fantastic for me since we've come in. We've identified that we really, really like him. I think he's got a really good mix of physicality, technical ability - as we saw the other night in tight situations deep on the pitch.
"His workrate has been a real feature of his play - he's covered every blade of grass for us, given everything for the team, a real selfless mindset I would say.
"I've been really, really pleased with him and I think there is more to come as well. He can continue to improve and he's going to be huge for us."
Howe on Joelinton's performance against Norwich
"The other night he started as a number 10. He then moved to a number 8 after the sending off, if that makes sense. He went to a midfield position.
"In terms of his best position, I think he is one of those players who can play in a number of areas on the pitch.
"I wouldn't label him at this moment. I'd say for me he's already played three or four positions very, very well.
"It's the qualities around the player that are the most important thing and for me, he's got a very high technical level, great work ethic and great physicality. I think he does have the ability to score goals.
"Put that mix together and you've got an outstanding individual who will only get better for us."
Howe on playing Joelinton in a deeper position
"For me, possibly. With Callum, he is an outstanding player for us. He plays the out-and-out striker role very, very well. Joelinton's qualities are different to Callum.
"Joelinton has got very high technical ability which suits us coming deeper into the pitch but also his tactical understanding the other night…
"He was asked to play a midfield role and he took to it with minimal instructions and delivered it absolutely brilliantly, which is a great sign for me to have players who have those adaptable qualities."
Howe on Joelinton's £40m price-tag
"The price tags are absolutely irrelevant.
"The prices in football since I was a kid when people were going for very minimal transfer fees to what they are now - it's very difficult to get your head around.
"People put a value on players that is not the player's fault.
"For me, Joelinton can be whatever he wants to be, he's still young. We will use him in different positions depending on our opponent and I am really, really looking forward to working with him. I wouldn't swap him. For me, he is going to be a valuable member of our team."
Howe's opinion on Joelinton before joining the club
"Whenever you watch a team from afar, you do have an opinion on players.
"For the amount of football I watched in my time away from the game, course you have an opinion.
"I always liked him from afar. And now working closely with him, I like him even more because you see the person and the human being behind the player.
"What I see from him is an incredible guy that really wants to do well. He's had a difficult moment going to a new club for a big fee but his resilience and attitude to that has been fantastic from what I can see. No negative reaction to that, only eagerness to prove his worth for the team, supporters and the club.
"Longer-term, I think he really can make a difference. I see someone who is very motivated to do well, you can see that from Tuesday - he covered every blade of grass for us and put in tackles you wouldn't associate with a centre-forward.
"And his tactical delivery of what we asked him to do in two different positions was of the highest level."