A young Newcastle United Foundation participant has been nominated as a 'Local Legend' for being an inspiration to other young people.
19-year-old Liutauras Balciunas (Lilly) has been praised for his infectious dedication and passion to football.
Lily has been involved with the Foundation's Premier League Kicks programme for six years and reaped the social and physical benefits it has to offer.
The teenager has now been named a 'Local Legend' by the Foundation as part of a scheme to celebrate the scheme's 15th anniversary.
The campaign hopes to shine a light on some of the scheme's most inspiring members and award them a personalised 'Local Legend' football card from Panini.
Lily said: "When I first started coming to Kicks, I didn't really know many people here.
"At first, I was a bit shy and not as confident.
"It has taught me social skills, meeting people that you don't know, and that transfers outside of a football environment where if you meet someone it helps you socialise with them."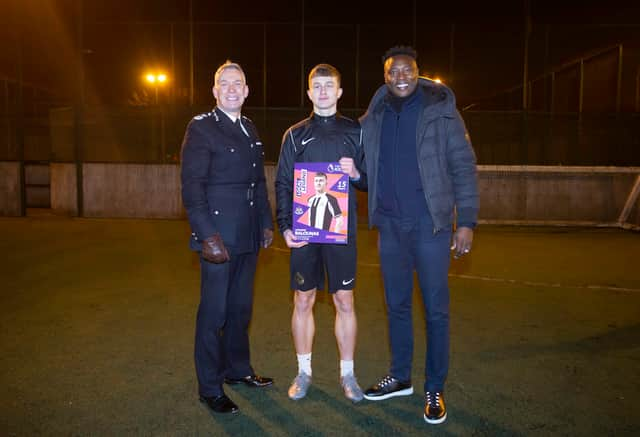 The Newcastle United Foundation has been delivering Premier League Kicks since 2006/07 and has grown from engaging 89 young people to reach 9,719 people in Newcastle over the past 15 seasons – delivering more than 16,500 hours of Premier League Kicks sessions.
Former Newcastle United striker Shola Ameobi said: "The reality is that a lot of these kids don't have a safe space to come and play.
"I think it's such an enormous thing what we do here [at the Premier League Kicks Newcastle Foundation], giving that opportunity to anyone to come and enjoy, not just the recreational side, but the social side.
"This is what the power of football and sport does – it takes kids off the street and gives them the opportunity to be a part of a team.
"Being able to converse together, play together, be part of something. That's the beauty of what happens here each and every week."
The Foundation's Sarah Burn said: "I remember Lilly joining in 201 and I remember him coming and having a bit of an attitude, being one of the lads.
"And I remember coming to the sessions and every week there would be something else - a little bit aggressive, a little bit negative and he did get removed a couple times due to his behaviour.
"The more he attended, the more he engaged and the more you saw a massive difference in him."
As well as providing young people with access to free football and sports activities, Premier League Kicks offers mentoring, life skills advice and access to opportunities like volunteering to help aid their development.
The Premier League has invested almost £66 million in Kicks and in the year ahead an estimated 80,000 young people will take part in the programme.
Premier League Chief Executive Richard Masters said: "We are proud of the incredible impact Kicks has had on communities up and down the country over the past 15 years.
"As we mark the anniversary, this is an opportunity to celebrate the local legends who have helped make Premier League Kicks what it is.
"The success of the programme would not have been possible without the hard work and passion of club staff, coaches and volunteers working alongside young people at Kicks sessions, week in, week out."
Northumbria Police support the delivery of Kicks sessions in Newcastle.
Chief Constable Winton Keenan commented: "If you look towards Kicks starting 15 years ago, it was dealing with tens of people, it's now putting thousands of people through its programmes.
"From a policing perspective, that's undoubtedly having a really positive impact on young people – the way they feel about themselves and how they interact with others.
"At the moment, this is one of the best providers of youth engagement – it is absolutely vital that they continue to fund it, because we're seeing the benefits of that."