The 27-year-old was filmed during Manchester City's Premier League title celebrations in May and drunkenly said Riyad Mahrez had to be substituted because "he played like Almiron."
The footage went viral and angered the Newcastle fanbase. But the 'play like Almiron' slogan is now symbolic of the Paraguayan's incredible upturn this season.
Almiron scored six goals in as many games in October to win the Premier League Player of the Month. Ironically, the 28-year-old's eight goals this term is double the amount Grealish has managed since joining City for £100million in August 2021.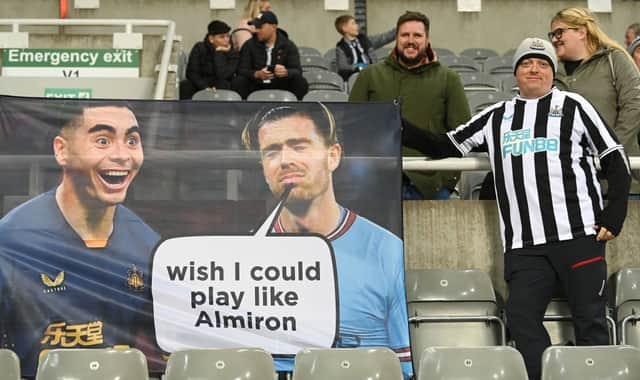 The former Aston Villa star finally addressed his jibe at Almiron and admitted his regret.
He said: "I haven't actually been asked about that and let me just address it. It was the day after the season finished and obviously I'd had a few drinks and stuff.
"Straight after that…because I didn't realise, we were out celebrating and I wasn't on my phone on social media. And then I remember I was in Ibiza and it had obviously come out.
"That was one thing I regret. When I said earlier that sometimes I do stupid stuff, that was one. I regret that. I swear, I'm actually buzzing the way he's reacted.
"He said something about me in the interview the other day, he wished me the best. I thought 'what a guy man' because if that was me and somebody had said that about me, I'd have probably been the other way.
"I'm actually buzzing for him, I've had a lot of stick off the Newcastle fans and rightly so. At the end of the day, they are backing their player which I fully understand. He seems like the most harmless, nice guy, so fair play, I'm buzzing for him."
Grealish is right, Almiron did wish him well during an interview last month.
"Would I shake his hand the next time we line up to play Man City?" said Almiron. "Yes, I would. Of course, I'd shake hands with him, whenever we play against Man City, without a shadow of a doubt.
"As I keep on insisting to people, Jack Grealish is a great player – and I just wish him all the best.
"Throughout my career, and as long as I remember, I've never really paid attention to what people say to me off the field. You just get on with your own job."