Newcastle United have been told what they need to do to come out on top against Manchester United in the Carabao Cup final.
The Red Devils continue to climb towards the top of the table, while they remained in the Europa League after beating La Liga leaders Barcelona on Thursday night. Still, anything can happen in a cup final, and ahead of the clash, Sky Sports pundit Carragher has advised Eddie Howe's men how to go about the Wembley clash.
"The fact that Manchester United played on Thursday night and have played a lot of games- if I was Eddie Howe I would be saying, 'You have got to start this game as if there is only half an hour left'," said Carragher in his Sky Sports column.
"You've just got to go for it. Try and make this game as fast and as intense as you possibly can right from the start. You have to start quick and really go after Manchester United."
The former Liverpool defender added: "We talk about Manchester United as being fresh and energetic, but Eddie Howe and everybody behind it - they've been one of the top teams in the division this season. They went to Old Trafford and got a 1-1 draw earlier in the season, so why shouldn't they believe that they can go there and win. I feel Man Utd will win, and they will be favourites, and the goalkeeping issue is a problem for them, but if you are Newcastle United you've got to get that out of your head mentally and move on.
"It's not, 'We can't win a game of football because we haven't got Nick Pope in goal'. Defensively, all season, it's not just Nick Pope, the back four have got the best defensive record in the Premier League. They are a tough nut to crack. They've got to go there with energy and belief."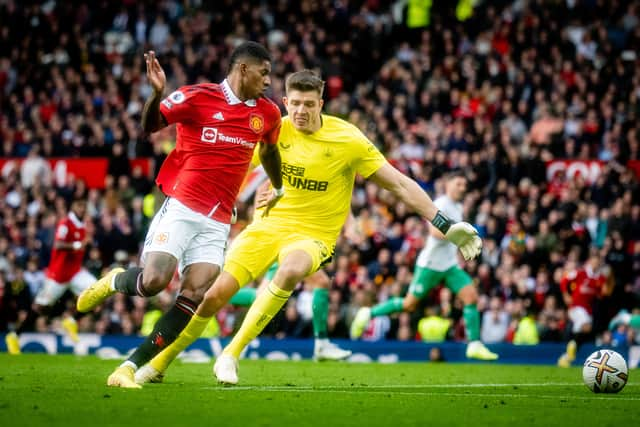 Man Utd are vastly more experienced when it comes to cup finals, and that will make the Red Devils favourites, according to Carragher.
"For Man Utd going to Wembley is nothing new, it's nothing to get massively overexcited about, but for Newcastle it is and maybe that energy from the stands that's been created - certainly at St James' Park - will be there at Wembley," he continued. "I've been massively impressed with the energy that Newcastle have shown in games and the way they have gone after teams. I was impressed with them against Liverpool last week - even though they went down to 10 men they still caused them problems.
"Newcastle are just on a bit of a rocky road. Manchester United are coming in off the Barcelona game and they're playing Thursday-Sunday which is not ideal, but I just think the experience and the quality of Manchester United right now will just give them the edge."