A roar. One which rippled through the hundreds of Newcastle United fans gathered at St James' Park - it was soon to become tens of thousands. A roar heard across all four corners of the globe. A noise which very much feels it is yet to reach anywhere near its crescendo.
This was it. The moment. 5.18pm. Thursday, October 7, 2021. A moment etched in the recent history of the Magpies. This was what United fans had been waiting for. All they hoped and dreamed for.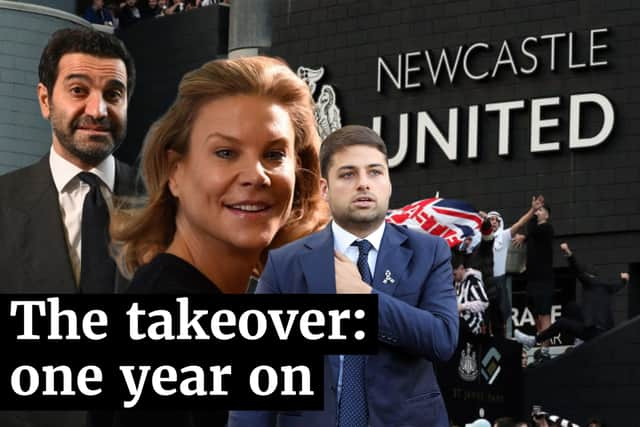 "The Premier League, Newcastle United Football Club and St James Holdings Limited have today settled the dispute over the takeover of the club by the consortium of PIF, PCP Capital Partners and RB Sports & Media."
It continued: "Following the completion of the Premier League's Owners' and Directors' Test, the club has been sold to the consortium with immediate effect."
Months of waiting for words from the Premier League and in two tweets they lit up a city.
This wasn't just about new owners, although United now have some who are turning the Magpies into one of the most ambitious sporting projects on the planet, this was very much about getting rid of Mike Ashley, too. Near 15 years of pain, hurt and dereliction meant the scars run deep.
Those from outside the black and white bubble claim to understand, yet they scarcely do.
This is Newcastle United. We live, we feel, we love, we hurt. They have little clue.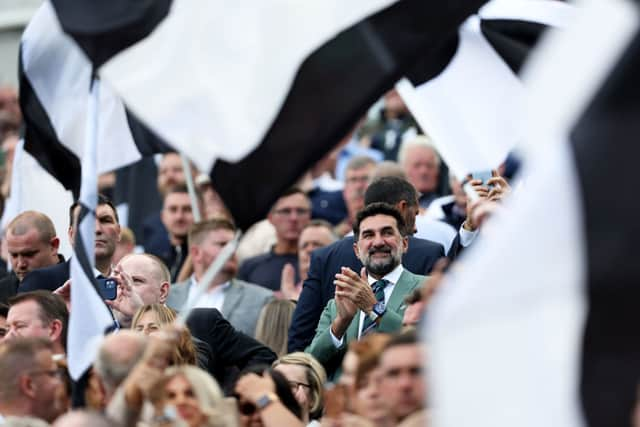 It drains. It excites. It's what gets you up in the morning. It's what keeps you up at night.
It's your life, or at least a massive part of it - even if you'll never admit as such.
It's the 'mates' thing, the 'family patch' thing, the 'six Guinness and a Munchies kebab' thing.
For some it's a reluctant fortnightly pilgrimage, for others they endure it weekly, to all corners - 3am alarm (or an all-nighter), the tinkle of tinfoil and a bag of cans.
Whether you're born into it or fall head over heels with it, black and white flows through the veins like little else. There is a uniqueness to it, even though they will tell you otherwise.
It pulls at the heart, the hair. Tears at the soul. It rocks the constitution, erodes your very being.
You hate them, they make you so angry but still those undying embers in the heart remain, waiting for someone to fuel them once more. A goal, a win, a cup run, a signing, a dream... a takeover? Well, this time, yes.
And I made that pilgrimage to SJP that day, huddled around the Sir Bobby Robson statue, like many others, playing the role of expectant parents. This was no birth though, more a rebirth.
Newcastle United is not something you can pick up and put down. This isn't just a game. This is a city, an identity, roots, history, the club your dad, your granda loves, my massive NUFC-supporting one just passed away, so penning this is particularly poignant for this writer. It might be the the club your uncle or auntie introduced you to, your next door neighbour. It's your mam's colours, your grandparents', your pals'.
This is Newcastle United and all that lives and breathes within it. It's the beating heart of a region, the jewel in the crown of the north... Well, it was until Ashley.
I've lived and breathed it, just like you, just like I did that night and every black and white night since.
I burst into tears when Rob Lee nodded home at Wembley, black and white shirt stretched around waist, shoulders scorched pink. Stick your blue flag up your...
I roared with you, as we went out on our swords in a Geordie invasion of the home of the Dragon, beaten but never forgotten. Surrendered on the park but not an inch was given off it. It's always this way. So near yet so far, again. No longer?
I waved my old man away on continental Champions League jaunts the first time around, enjoyed them all the same for myself the second.
Kevin Keegan taught me how to dream, then Robson did his best to remind me.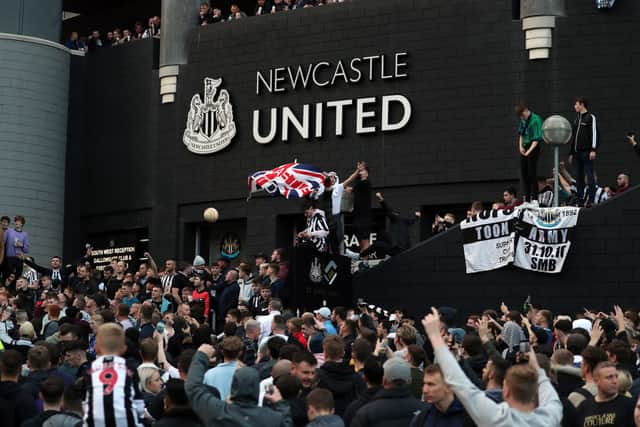 Amanda Staveley, Mehrdad Ghodoussi, Jamie Reuben and PIF showed so many with just a financial transaction that hope springs eternal once again on Tyneside. The dreamers can dream again.
The deal switched on the life support machine that night, and the heart is back and beating.
Cans flowed, the city thronged. As day turned to night, Newcastle began to buzz. So many, including myself, felt a real compulsion to simply 'be there'. I was pulled like tens of thousands of others to our cathedral on the hill. It was almost magnetic. It's nothing new. We did it in 1996 for Big Al and again in 2005, although we try to forget that one.
The great and the good of Geordie society were there from the celebrity fans to the regular, especially the Ashley-moulded 'back when he's gone' ones. Podcasters, Youtubers, social media faces all laughed and joked, a far cry from the vitriol pointed each other's ways in the dark days of waiting. Media outlets crawled through the masses looking for Saudi garb-clad locals, they mostly found inebriated, disbelieving Geordies, buoyed by the news and the contents of the half-empty Tesco bag draped off their arm.
Nine bar bounced with joy and rolling down the street, The Strawberry became base camp for many, including myself. I bumped into Sam Fender and his band. Given how drunk the Geordie hero was at around 10pm, I find it hard to understand how he even made it to BBC studios the next day. He was, famously, wearing the same clothes.
TVs were watched intently for the smallest crumb of 'new' news. Every word Staveley spoke as the Sky Sports cameras beamed her words to glowing fans, eyes wide, hearts open, it felt, was greeted with cheers. Almost every decision since, bar the one to hang on to Steve Bruce for a game, has been welcomed with the same positivity in a near perfect 12 months. My opinion, of course.
Has this been the takeover to end all takeovers, as described by some in the media? Has it lived up to expectations?
For some, yes, others, less so.
This deal was never going to please everyone, nor was it ever going to be as wild and wonderful as swiftly as some wanted.
However, there's a sense that we're not even through the first chapter of this particular black and white story.
So much feels yet to be written.
But for that night, that moment, it seemed like for once in a lifetime - it's 67 years since the Magpies won a domestic trophy - all the stars aligned on Tyneside. The eyes of the world focussed on this proud city on the Tyne 12 months back. I'm sure it won't be the last time.