Jurgen Klopp says Liverpool's 98th-minute winner against Newcastle United was the "perfect moment" after the visitors were accused of time-wasting.
Fabio Carvalho struck in the eighth minute of stoppage time, despite referee Andre Marriner allocating five minutes.
The Magpies had taken a first half lead through debutant Alexander Isak before Roberto Firmino equalised around the hour-mark.
Indeed, with tempers rising inside Anfield, the last-gasp goal sparked a melee between both benches and after the game, Eddie Howe's side were accused of gamesmanship.
"I am really happy that everyone saw it tonight," Klopp said when asked about the apparent time-wasting. "It was hard to take.
"It was a difficult game anyway, Newcastle invested a lot to close us down. They were close to getting pretty much everything for it. Of course, everyone wants to see a football game and when it is interrupted that often it is not nice for anybody.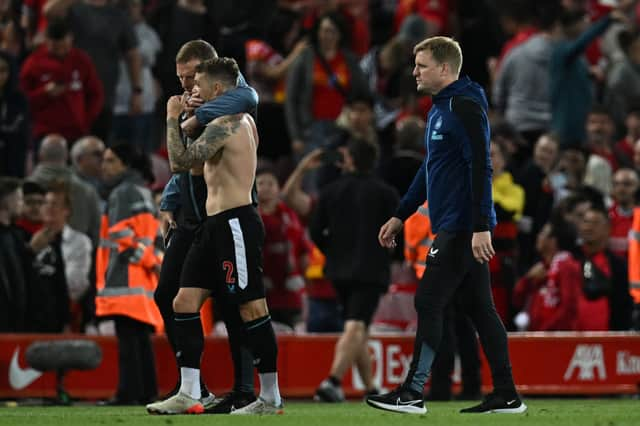 "The only chance we have, not just for this game but in general, the referee has to pick earlier yellow cards. I don't know when the kicking the ball away stopped being a yellow card. When did this rule die?
"I had no idea if that tonight was on purpose or if their players really had to go down because slightly injured. I don't know."
Klopp then went on to describe Carvalho's late winner as the "perfect response".
The German boss said: "Newcastle did really well how they put us under pressure. They had to invest a lot and I think you could see that in the last 20 to 25 minutes when they started struggling a little with intensity.
"We should have done better. I told the boys at half-time that even before we were 1-0 down we looked desperate and there was no need for that. We were forcing it too early and playing too many long balls without a real idea behind it.
"We showed the boys if we do specific things and play the extra pass, it can cause them problems. Newcastle took some risk in their defending and how they moved to one side. When the ball moved left, they put us under some pressure.
"We scored the equaliser and then it was just a difficult game to play because we didn't play a lot. The game was just interrupted constantly for some reason and that doesn't give you the momentum. There was no chance to gain any kind of momentum.
"In the end, I was really happy in the moment when we got the last corner in the 98th minute. Obviously what happened was absolutely outstanding, a wonderful goal.
"Perfect moment that we scored after 98 minutes. It was the perfect response to everything that happened during the game."