'Massive respect': Flood of support for Newcastle United star as he opens up about childhood difficulties
Callum Wilson visited a food bank in Gateshead where he shared his experiences needing support as a child in a family of six.
Watch more of our videos on Shots!
and live on Freeview channel 276
Visit Shots! now
Football fans have sent waves of support and thanks to Newcastle United striker Callum Wilson after he opened up about his experiences using food banks as a youngster.
The Magpies man visited a local food bank in Gateshead to see the work they do and compared it to his experiences growing up.
Wilson was the eldest of six siblings who grew up with a single mum in Coventry. The star had mentioned his experiences with food poverty briefly before but went into more detail in a SkySports mini documentary.
He said: "Being someone who, when I was younger, experienced receiving food off the food bank, it's something important to me.
"I hear 10,000 people just in Newcastle alone use this specific food bank and three million people nationwide which is crazy to believe.
"It's a shame but it's amazing what these guys do for people and you don't realise the impact it has on people's lives."
As he looked over the donations, Wilson recalled competing with brothers and sisters over cans of peach slices and noted that tins of rice pudding looked much more tempting than 20 years ago.
He said: "It was an important part of my journey. When you're in a family, one of six with a single mum who strives to be the best mother she can be.
"Sometimes it seems to be too big of a task and you need external help. Sometimes it can be demoralising getting it but you have to put your ego and your pride to the side a little bit.
"At Easter time when they used to come around and bring Easter Eggs for my siblings and that, those moments are what you bank.
"Being the oldest of the six I wanted to make sure I got out of that environment to provide for my own family and then get to a place in my life where I can give back to others and help the next young footballer who might be receiving off of the local community."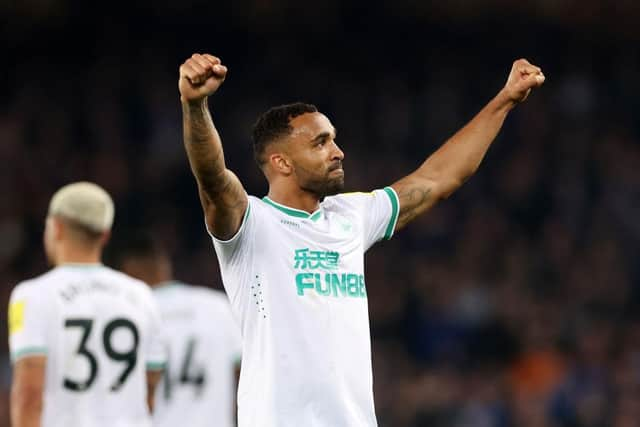 Viewers were quick to praise Wilson for sharing his story and supporting those in need with fans writing "massive respect" and "what a great player and great person" in the comments.
One said: "Great interview, so glad to see footballers shown positively and to show young people where they came from and not to forget."
Another added: "Our kids were at the same football academy for a while. Used to chat with him sometimes. Down to earth, grounded, polite, friendly. Not at all surprised to see him doing things like this. Great guy."