A work permit delay forced the 22-year-old to miss the Magpies' visit to Wolverhampton Wanderers before making his debut at Liverpool three days later.
Isak opened the scoring at Anfield and had another ruled out for offside before Jurgen Klopp's men won the game via a controversial last-second winner.
The Sweden international retained his place in the starting XI for the visit of Crystal Palace but endured a much quieter afternoon.
Isak registered just two shots at goal, including a one-on-one chance where he tried to chip the ball over Palace goalkeeper Vicente Guiata.
United supporters are looking forward to seeing more of their new £58m signing - and Merino insists: "He'll be great for the Magpies!"
The former Newcastle midfielder was a teammate of Isak for three years, where the pair helped the La Liga club lift the Copa del Rey in 2020.
'He'll be great for the Magpies!'
"Alex has already started well," Merino told The Athletic. His mindset is very good. He can adapt to whatever you tell him.
"When he came here, he had to adapt to a very specific system of playing where he had a specific role to make an exact movement when the ball was in a certain position.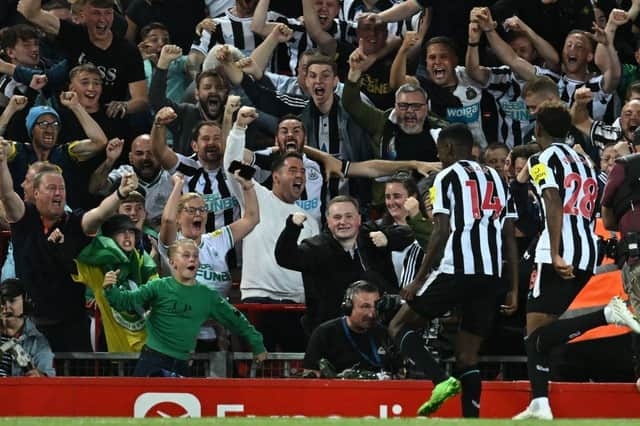 "Being from Sweden and being able to adapt showed how smart he is. With his abilities, his speed and strength, the Premier League is a good place for him."
Merino spent the 2017-18 season on Tyneside, where he made 25 appearances and scored one goal, which was an 86th-minute winner versus Crystal Palace.
"Newcastle was amazing," Merino said. "I felt like I was home there, the people were so kind to me. I'd walk around the streets and everybody would call me.
"The stadium was always full, home and away. It was great to play in the Premier League, to experience the physical side of a league where you have to go strong in the tackles. It's not about managing the ball and giving passes, but strength and going into battle.
"I thank Newcastle. I didn't learn any Geordie phrases, learning English was difficult enough! But watching TV in English, Netflix and Game of Thrones, helped me learn the language"