Newcastle United Christmas Q&A - What players will Eddie Howe look to sign in the January transfer window?
NewcastleWorld editor Liam Kennedy and football writer Jordan Cronin answer the key questions surrounding Newcastle United ahead of the remaining Christmas fixtures and the January transfer window.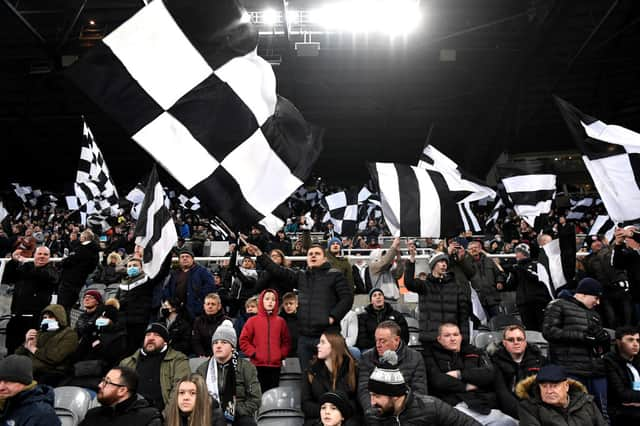 What have you made of Eddie Howe's start to life as Newcastle United manager?
LK: "It's better than Steve Bruce's time, there's absolutely no doubt about it. The team is more organised, definitely has more of an attacking threat and looks more of a Premier League unit. But what I would say beyond that is mitigating circumstances that the results probably haven't been as positive as Howe and everyone else would have hoped. He had the positive Covid-19 test before the Brentford game and had the early red card for Ciaran Clark against Norwich which kind of spoiled proceedings. They've had some really, really bad VAR decisions, you can count four really poor ones in the space of three games, which have been game-changing. They might have got something at Leicester, despite the 4-0 scoreline, had the penalty decision gone their way and then at Liverpool, if the Ryan Fraser penalty is given, and that's not going over the Isaac Hayden head injury which was ludicrous, but if the Fraser penalty is given, that could be Liverpool down to 10-men and going in 2-2 into the final 20 minutes when Newcastle could win the game. Of course, the Man City one is the worst decision of them all, but I think there are signs to be positive moving forward. Newcastle United are at the stage of their season now where they just need results."
JC: "The team has clearly improved, lots of individuals have as well - Joelinton is the most obvious one. But still, results haven't exactly gone to plan and that is what matters at this stage. That said, Howe & Co have had a lot against them, as Liam has highlighted. Results will improve, I'm sure, but so far, I've been impressed by Howe. He's really good with the media and has played a key part in uniting the football club. That shouldn't go under the radar."
Heading into January, what will be on Eddie Howe's Newcastle United Christmas list?
LK: "I think the bare minimum for Newcastle United in the January transfer window is four signings, which would be one central defender, one central midfielder, one full-back and a forward to take the burden a little bit off Callum Wilson and Allan Saint-Maximin.  In an ideal world, you'd probably be talking about six or seven signings - two central midfielders, two central defenders to take that to six and a seventh may well even be a goalkeeper. As big of a fan I am of Martin Dubravka, I'm just not 100% sure he is absolutely suited to this playing out from the back stuff."
JC: "Four signings minimum - a central defender, full-back, central midfielder and a back-up striker with United a Wilson injury away from disaster. Beyond new arrivals, better luck with referees and VAR wouldn't go amiss! And of course, the obvious, as many three points as possible."
What players will Eddie Howe & Newcastle United target in January?
JC: "Kieran Trippier is clearly at the very, very top of that transfer wishlist and there are a number of centre-halves that have been offered to the club, or who are on the radar. Central midfield is another position where Newcastle are desperately keen to strengthen. We've seen links to Cole Palmer in recent days - that was a loan application rejected by Manchester City. We've also seen central defenders such as Abdou Diallo, James Tarkowski, Ben Mee, Conor Coady - the list is endless. But what that does prove quite clearly is Newcastle are desperate to sign a central defender. Lloyd Kelly is a player right at the top of the wishlist too. I think they'll probably look to bring in a forward on loan but January is a very difficult window, things can change very, very quickly. Players that are available now might not be available two weeks into the window and vice versa. Newcastle are going to have to be agile in the market, be ready to move and make sure they have a Plan A, B, C, D & E."
JC: "There is no secret of Newcastle's interest in Trippier - and what a signing that would be if the club can get that over the line. The other top target is Lloyd Kelly. Howe knows a lot about the player having signed him for £13million from Bristol City. It took a little time for the 23-year-old to settle at Bournemouth but he's now at the top of his game - captaining the Cherries despite his tender age."
Do you believe there should be a Covid-19 break in the Premier League?
LK: "The absolute cynic - I'm not saying I am a cynic - would suggest a Covid-19 break at this point in the season would be beneficial for Newcastle. Thinking it through, they would be better approaching these fixtures they've got at present with a better squad, which I have no doubt they will have by midway to the end of the January transfer window. Do I believe that there should be? I know it's a very open subject but I'm not against the Premier League in principle to continue playing on whilst teams can play on. It's probably a sensible move but I do get the argument that people think that's prioritising trivial subject such as football over players' and spectators' health."
JC: "Yes. I don't like that Newcastle are playing through this period when their relegation rivals are having games postponed. You'd rather play these games later in the season when the squad is stronger, which you hope will be the case after January. It's unfair that the likes of Burnley and Watford will have that luxury. It could be a nervy end to the season too, with Newcastle praying their relegation rivals lose their games in-hand during the closing stages of the campaign. It does make you question the integrity of the league, but these are unprecedented times."
Thoughts on Manchester United? Score prediction?
LK: "Everyone is talking about the fact we are through the really tough games - Manchester City, Leicester and Liverpool in a week and people are looking at the next three of Manchester United, Everton and Southampton as potential points. Let's not beat around the bush here, Manchester United at home is a very difficult fixture. Newcastle have had some decent results against them over the years, a par score against Manchester United at home is probably a defeat but I do fancy Newcastle under the lights. As long as there is a full crowd there, I do see Newcastle getting something from that game. Score prediction? I'm going to go for 1-1. A point would be a positive outcome."
JC: "From the outside looking in, whilst it's two wins from two for Ralf Rangnick as interim manager, 1-0 scorelines against Crystal Palace and Norwich City shouldn't spark any immediate fears into Newcastle. It'll be interesting to see how their enforced Covid-19 break has affected them. I'm going for 2-2, Ronaldo is bound to score for the visitors."