Over 28,000 supporters packed into St James' Park to watch the Lady Magpies come from 1-0 down to progress into the third round following stunning goals from Georgia Gibson and Sharna Wilkinson.
The attendance set a new FA Cup record - the biggest outside a final - and also surpassed the 22,000 that attended the 4-0 win over Alnwick Town in May.
Staveley's vision for the Lady Magpies has brought Becky Langley's side under the financial wing of the football club, with the ultimate goal to reach the Women's Super League.
And before taking to the field against Barnsley, footage released by the club captured Staveley's pre-match speech.
Amanda Staveley's speech in full
"I want to say how incredibly proud I am of all of you," the Magpies co-owner said. "This has been a journey we have taken together. You have inspired me, I've got goosebumps now because we've come on this journey, we started from pretty much nothing.
"It was your passion and drive, with Becky, Sue, Katie, all of you girls, that actually did this. We came along and made it a bit easier but ultimately it was your belief in yourselves that you could go and play and deliver such incredible football.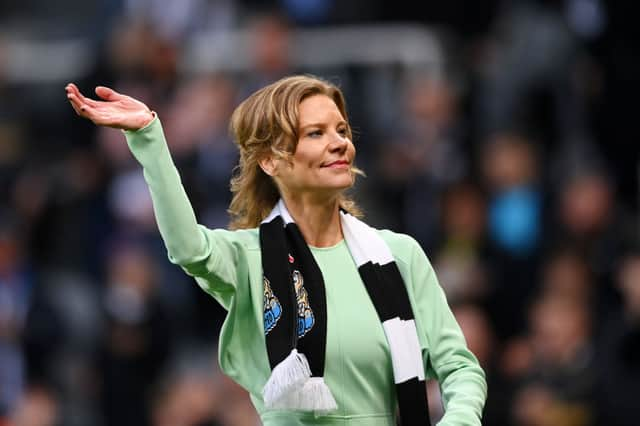 "I want you all to think when you're out there today about all of the other young girls you are inspiring, the women you are inspiring for the future because I couldn't get the chance to play football. I didn't, but I now love seeing you guys perform."
"I also want to take time to reflect on the pressure that has been put on you all. Coming in, playing football, even the lads get quite nervous, they get a bit of stage-fright, it's nerve-wracking, and it's a massive platform that you've put yourselves on to.
"You've coped with it really well and I know Sue said upstairs we are talking getting there in x amount of years. Forget all of that, we will get there when we get there. The most important thing is that you enjoy your football and we learn to play. As long as every game gets better, and that has happened, I know you will.
"We are second in the league, that is extraordinary, and you've done this from part-time basis and we are trying to make that so you don't have that financial pressure on you that you had. So Becky, my heart, I am so proud of you, what you have done to inspire these amazing women and today it's all about you so go out there and enjoy it."
Becky Langley's reaction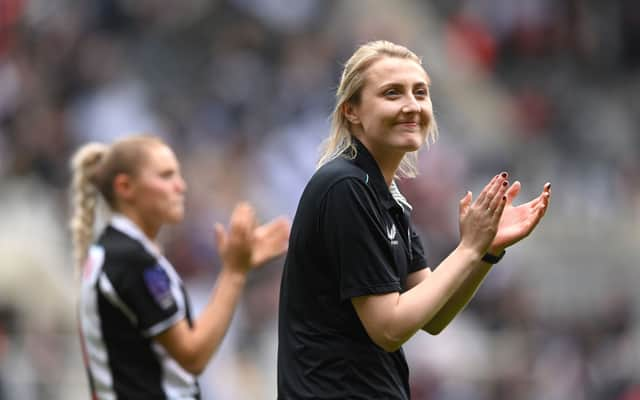 The Lady Magpies, after a tricky start, certainly rose to the occasion, and Langley revealed afterwards Staveley's speech left her with goosebumps.
"It was a lovely touch to have Amanda in the changing room pre-match," said the Newcastle boss. "She really speaks from the heart and there is a genuine passion to help support women's football. She has said many times she wishes she could have played football as a youngster.
"I think she wishes she was one of the girls in the dressing room with a black and white shirt on able to play on the famous turf at St James' Park. She just empowers us all. When she speaks, you get goosebumps because you what a fantastic role model and leader she is.
"She's passionate but she is also incredibly intelligent and knows how to build a football club. We're seeing that with both the men, women's and the academy."