Newcastle United have taken another step towards strengthening their infrastructure with the appointment of Darren Eales as their new Chief Executive Officer.
The 49-year-old joins the Magpies after leaving his role as president and chief executive at MLS club Atlanta United, where he negotiated the £21million sale of Miguel Amiron to Newcastle.
Eales has previous experience of working with United's sporting director Dan Ashworth after the duo worked together during their time at West Bromwich Albion.
After leaving his roles as legal director and club secretary at the Hawthorns in 2010, Eales became director of football administration at Tottenham Hotspur.
After four years with Spurs, he was named as president of new MLS franchise Atlanta United and forged a strong reputation during his time at the Mercedes-Benz Stadium.
As well as leading the club's charge to the MLS Cup in 2018, he racked up the personal plaudits over the last few years after twice being named as MLS Executive of the Year and World Football Summit Executive of the Year.
However, he will now head up Newcastle's exciting new project under the ownership of a PIF-led consortium and he revealed his excitement at the challenges that lie in wait.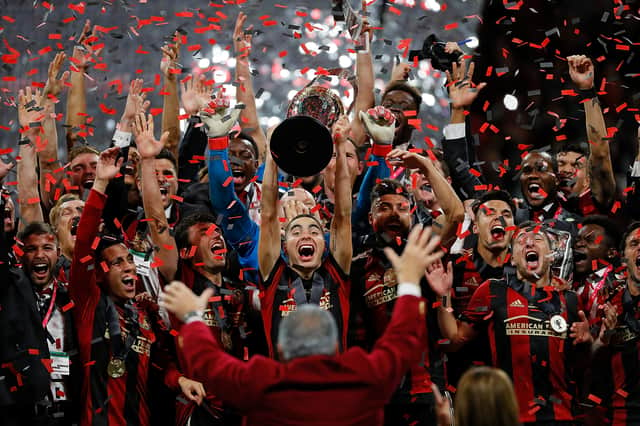 He told the club website: "Newcastle United is both a giant of a club, and the heartbeat of its community. Every time I have visited St. James' Park, I've been overwhelmed by the passion of the fans.
"This is a club with an amazingly rich heritage, and I am delighted to be joining for this new chapter in its long history.
"I am grateful for the opportunity, and look forward to working with the rest of the team to help this storied club fulfil its potential."
The Magpies' owners issued a joint statement regarding the appointment, saying: "We are delighted to announce Darren Eales as the club's new CEO. He is an exceptional leader and is a great fit for Newcastle United.
"We have conducted an exhaustive recruitment process to ensure we identified and secured the right individual for the CEO position, and we are confident we have found that person in Darren.
"He has a deep understanding of the football industry and what it takes to achieve growth and success, and he will be a key member of the club's leadership team as we look to deliver on the club's potential on and off the pitch."