Newcastle fan David Bowers is taking on the London Marathon later this year and funds raised through the raffle will go towards his running endeavours.
The fan hails from Whitley Bay collision">Whitley Bay and supporters have already put over £10,000 towards the cause via the raffle, which is being supported by fan group Wor Flags.
The corporate box has space for 10 people and tickets include a four-course meal before the match.
Each entry ticket costs £10 and the deadline to have bought an entry is 3 pm on Thursday, August 4 - you can enter the raffle here.
A draw to unveil the winner will then take place on Thursday at 6 pm, with less than 48 hours to go until Eddie Howe's side begin their campaign for the 2022/23 season.
As well as flocking to enter the competition, fans on social media have been quick to praise David and Wor Flags for their efforts.
One fan wrote: "I'd love to win this to take my two sons (who live in Northern Ireland but live and breathe #NUFC) but, and I don't expect to win, it's helping a great cause that's actually close to our hearts. Good luck everyone!"
Many others added short comments of "great gesture", "amazing cause" and "absolute class".
Writing on a JustGiving fundraiser page for the London Marathon challenge, David explained why the cancer charity is so close to his heart.
He said: "My mum was diagnosed with Hodgkin's disease when I was a young boy, and I saw first-hand the help that amazing charities, such as Blood Cancer UK, provide. I was one of the very fortunate few that witnessed my mum receive the all-clear in 1999, and I want to help raise funds to ensure more boys and girls have the opportunity to grow up with their mums alongside them.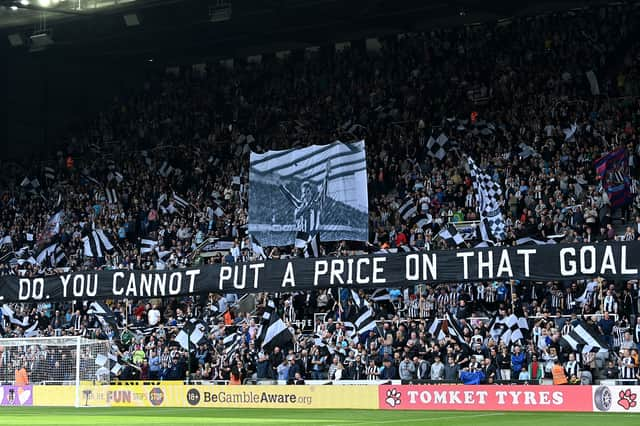 "For those that know me, running isn't my strong point! So this is going to be a huge challenge, but with your support, I'm sure I'll cross that finish line in October with lots of generous donations for Blood Cancer UK."
Blood Cancer UK invests millions of pounds in blood cancer research and help find lifesaving treatments.
The charity hopes to one day found a cure that will beat blood cancer once and for all.