Newcastle United fans have been urged to help get a poignant Wor Flags display underway at St. James' Park ahead of the visit of Manchester City this afternoon.
The supporters' group have collaborated with Show Racism the Red Card to organise an important display and highlight the ongoing need to stamp out discrimination from football.
It comes as Premier League players made the decision to only take the knee at select moments this season amidst fears that the act of protest had lost some of its potency.
On Friday, Wor Flags confirmed its collaboration with the anti-racism organisation.
In a message posted online, the fan group said: "On Sunday, alongside our normal display of support for the lads, we are teaming up with @SRTRC_England.
"As the first game where the players won't take the knee, we're highlighting that the fight goes on to tackle racism in our game and in our society."
To help launch the display, Wor Flags has asked supporters to help get 'all hands on deck' in the run-up to kick-off.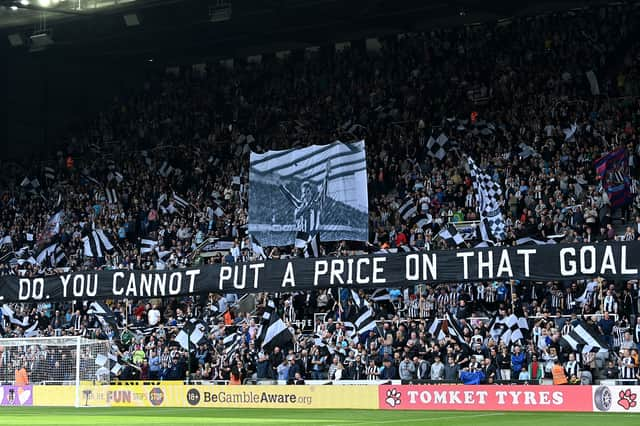 A statement read: "It's all hands on deck tomorrow and we're looking for as many people as possible to pick up the big wavers placed on walkways around the stadium.
"If you see one on the ground, get it going. Howay the lads!"
Fans should remember that the flags should be left in the stadium after the match.
'The work you had has breather new life into our club'
The Wor Flags and Show Racism the Red Card collaboration has been supported by stars such as Shaka Hislop, David Kelly, Steve Howey and Lee Clark.
Honorary President of Show Racism the Red Card Hislop said: "I wanted to say thanks to Wor Flags for their continued support. The work you do for this city has breathed new life into our community and football club.
"Our organisation has always worked so closely with Newcastle United and the local community and this unveiling of the flags at the Man City game goes as further testament to that."
Magpies fans have already shown their eagerness to support the campaign online.
One Twitter user wrote: "Great news. This is a club that everyone should be able to support free of discrimination and abuse."
Another said: "Amazing effort. The Knee was getting tired and it's time for legislative, educational & community action to help stop racism. But supporting as fans, players and from the stands can help."
Callum Wilson calls on Government do 'do more'
Earlier this month, Newcastle striker Callum Wilson opened on discussions had by the club regarding taking the knee ahead of the new season.
Speaking on the Footballer's Football Podcast with West Ham United star Michail Antonio, Wilson said: "For me, as part of the leadership group at Newcastle, we had this discussion and spoke about it and what we're going to do going forwards. There were mixed opinions, much like my own.
"We did it for a period of time and it got recognition, people were asking questions about it and we felt we were making progress. It's either we all do it or we don't do it all, I feel.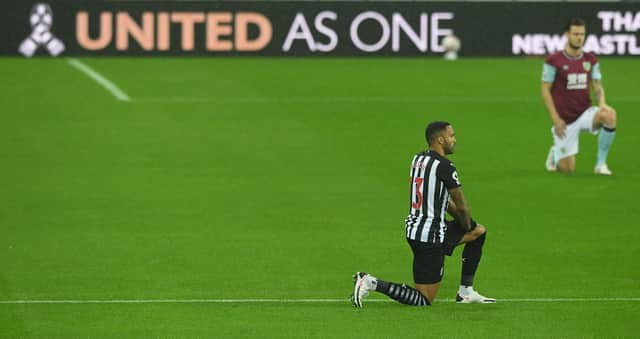 "When you've got some people who have their opinion and don't want to take the knee and want to stand up... I just think that brings more light onto the whole situation than taking the knee and what you're doing it for.
"Going forward, if you're on a big stage and it's a big occasion, then take the knee and start raising questions. Doing it week-to-week because we are told to do it, I just feel it's something that's faded and lost its impact.
"It probably comes down to the Government doing more, educating youngsters in schools - not just professional footballers trying to use their platform. Everyone loves football and it brings people together, but it can't just be us trying to make that change."