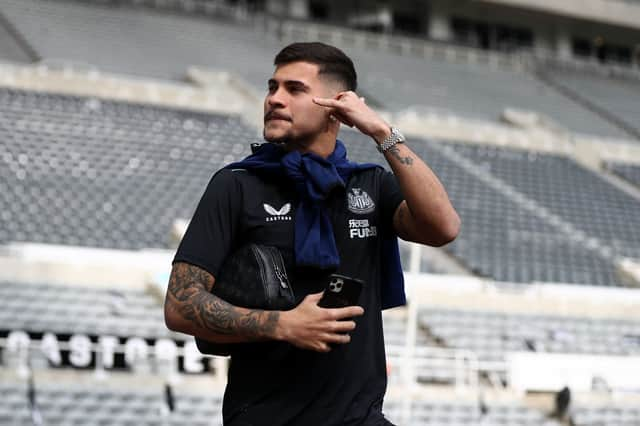 Bruno Guimaraes has again spoken of his ambition to win the Champions League with Newcastle United.
The Magpies fought off interest from several European clubs - including Arsenal - to sign the Brazil international from Lyon in January for £35million.
He is viewed by many as the first big signing under the new Saudi Arabian-led ownership and his performances so far have lived up to the hype.
Newcastle legend Alan Shearer tipped Guimaraes to be at the heart of how successful the club is in the coming years.
And certainly, the 24-year-old believes in the lofty ambitions, admitting that winning the Premier League and Champions League with United is on his mind.
Speaking to the club's matchday programme, Guimaraes said: "The most difficult thing now, in my opinion, is to stay in the Premier League this season.
"After, we come to think about winning the Champions League, winning the Premier League, but step-by-step.
"I know in the next year it will be difficult, but if we have our ambition, if we have our project, we can imagine a lot of things.
"But as I said before, we are not safe yet. We have won games but haven't achieved survival yet.
"When I came in, we were second bottom. We have won a lot of games, but we haven't achieved safety yet.
"Next season, with the project continuing, there's everything in place to improve."
Guimaraes may only be 11 games into his Magpies career but the Geordie-faithful have taken to him as one of their own - already unveiling a flag for the Brazilian.
And you could say the midfielder has done the same, especially after celebrating with a ballboy in the recent 1-0 win over Wolverhampton Wanderers.
"I was really, really happy to see that," Guimaraes said when asked about his very own flag. "It was so satisfying to see that affection from the fans.
"I look to do my absolute best for Newcastle. It's what the team deserves. The fans are really passionate., it's a club with a great tradition and an amazing fanbase.
"That's why I aim high - it's important for me. I believe in the potential and this club and what we can achieve. And the fans do too.
"The affection the fans have for me is incredible. I love the fans.
"Whenever I'm out on the street, they ask for a photo, they shout my name, and I do feel a bit embarrassed at times!
"But I hope to continue and pay back on the pitch all the affection they have for me.
"I want to do my best for them. I really believe in our project, our fans and our team. "