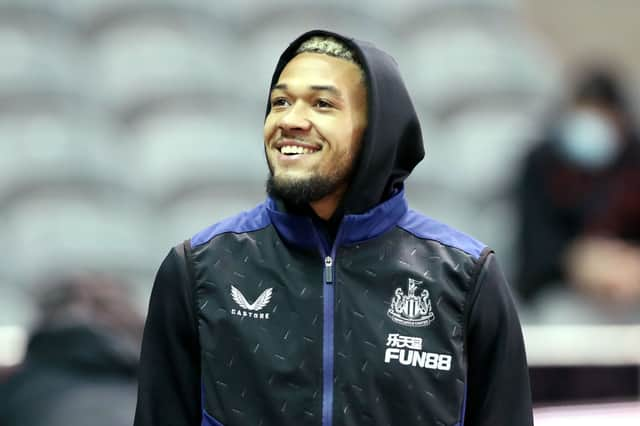 The Magpies' record signing is a man transformed under Eddie Howe and in recent weeks has become an unlikely central midfield powerhouse.
His latest performance against Manchester United earned the Brazilian the man of the match award.
And when presented with the award by Sky Sports, the interviewer said to Joelinton "I didn't realise you were that good", which didn't go down too well with Toon fans.
Longstaff, interviewed alongside the 25-year-old, quickly leap to his colleague's defence and highlighted his superb form since Howe's arrival as head coach.
What did Sean Longstaff say about Joelinton?
Longstaff said: "We know how good Joelinton is and the disrespect he gets is a disgrace.
"Every day in training he's the best player and if you get him on your team in training you're buzzing because you'll always win.
"He's shown since the manager came in what he's been like in training. Everyone at the club rates him so highly.
"The noise form outside is so disrespectful and if you watch him enough you see how good he is. I'm so happy for him and proud of him."
What did Joelinton say about his new role?
Joelinton starred in a wide position for Hoffenheim, however Newcastle, after paying £40million for his services, viewed him better as a striker.
The player struggled to live up to the expectation of his price tag and his number nine shirt, mostly because he is not a striker.
Joelinton started out as a winger under Howe but his display against Norwich City, where he played as a central midfielder, sparked an unlikely new role.
"It's a new position for me," Joelinton admitted. "I try to give everything for the team.
"Unlucky with the result but we can be proud of the game and we just keep playing. It was a hard game but we take the positives.
"I understand what the manager is asking from me on the pitch.
"Some days things don't happen but today I tried to work and I hope to continue this and do good work and hope we can win the game and improve this situation."
What did Eddie Howe say about Joelinton's performance against Manchester United?
Howe said: "I think first and foremost he has given me everything. He has bought into everything we have tried to do. He worked incredibly hard for his team and his teammates. He has been outstanding.
"Defensively the job he was asked to do he delivered. An outstanding performance based on a high level of understanding when you consider he has performed the majority of his career in a different position.
"His technical quality, the ability to receive the ball and find his way out of very tight positions has been very, very good.
"I think he is playing with real confidence and I hope that continues and he can take his performances on a level."
Joelinton's performance against Manchester United in numbers