Newcastle United have confirmed their place in next season's Champions League after drawing 0-0 with Leicester City at St James' Park.
Not since 2003 - the days of Sir Bobby Robson and Alan Shearer - have the Magpies qualified for Europe's most elite club competition.
But Eddie Howe's men secured the club's return tonight after drawing against the Foxes.
Now the excitement builds. When is the Champions League group stage draw? What teams could Newcastle play? NewcastleWorld takes you through it all.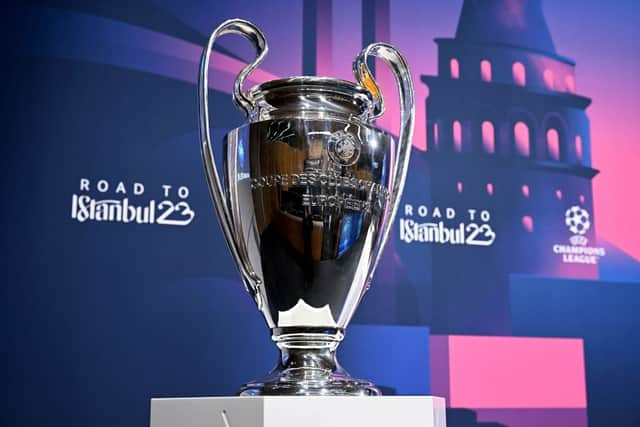 Will Newcastle United have to go through the qualifying rounds?
No! Since 2019, the top four teams in the Premier League La Liga, Bundesliga and Serie A have all qualified automatically for the Champions League group stage.
Newcastle's last Champions League match was a play-off game against Partizan Belgrade [Wednesday, August, 27 2003], which they lost on penalties after drawing 1-1 on aggregate.
When is the Champions League group stage draw?
The draw for the Champions League group stage - involving 32 clubs - is set to take place on Thursday, August 31, 2023.
Twenty-six teams - including the Champions League holders and previous season's Europa League winners - qualify automatically for the group stage, with the final six berths being decided via the play-offs.
How does the Champions League group stage draw work?
The 32 clubs involved will be split into eight groups of four, labelled Group A, B, C, D, E, F, G and H. Furthermore, the teams will be split into four seeding pots.
Pot 1 will consist of the holders, the Europa League winners and the champions of the six highest-ranked nations, including Premier League champions Manchester City. Pots 2 to 4 will be determined by the club coefficient rankings.
No team can play a side from their own country until the knockout stages.
What seeding pot will Newcastle United be in?
Currently, Newcastle United do not have any coefficient points [0.000] as they have not competed in European competitions in any of the last five seasons since the system was introduced.
By default, the Magpies will gain England's association contribution score of 21.628 as a result of the performance of Premier League clubs in European competitions.
Based on that logic, Newcastle will almost certainly be in pot four, meaning Howe's men have a high chance of a difficult draw.
When is Newcastle United's first Champions League group game?
Matchday one of the Champions League group stage gets underway on September 19 and 20.
Matchday two: October 3 and 4. Matchday three: October 24 and 25. Matchday 4: November 7 and 8. Matchday five: November 28 and 29. Matchday six: December 12 and 13.
If Newcastle gain qualification out of the group, the knockout stages begin in February. The final is held at Wembley.
What teams could Newcastle United face?
Spain: Barcelona, Atletico Madrid, Real Madrid, Real Sociedad.
Italy: Napoli, Juventus, Lazio, Inter Milan.
Germany: Borussia Dortmund, Bayern Munich, RB Leipzig, Union Berlin.
France: Paris Saint-Germain, Lens.
Portugal: Benfica, Porto,
The list above is based on the current standings, as if the season finished today.
Get the latest Newcastle United headlines with our free football newsletter! Follow the action from St James' Park and beyond as we bring the sport news to you. Visit our website here to sign up.