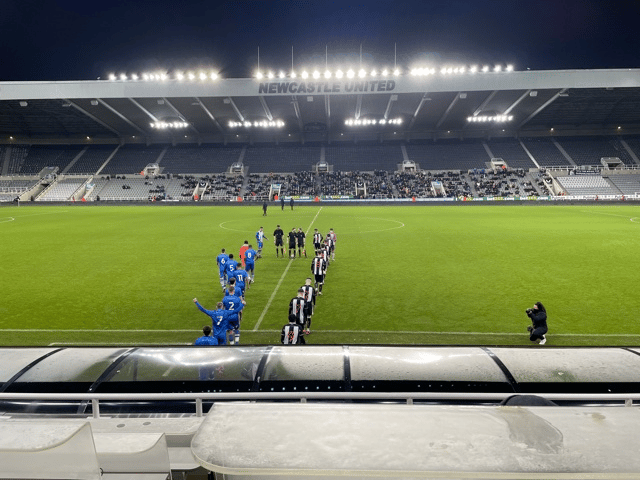 Peter Ramage's Newcastle United under-18s were in action in the FA Youth Cup last night.
Peter Ramage knows about the pressure, the excitement and the expectation of running out at St James' Park in the famous black and white stripes.
It's almost 17 years since the former Newcastle United defender made his Magpies debut, replacing Stephen Carr as a second-half substitute in a 4-0 UEFA Cup win against Greek giants Olympiakos.
It was a boyhood dream realised, the first of 69 appearances for his club, 32 of which came at the stadium he calls home.
He was in the side that claimed a 3-2 win against bitter rivals Sunderland thanks to stunning free-kick from Emre and he was one of the first players to celebrate with Alan Shearer when the United icon broke the club's all-time record goalscorer with a goal against Portsmouth.
He experienced the thrill of having 52,000 pairs of eyes focused on him on European nights under the floodlights as the likes of Fenerbache and Celta Vigo were seen off in UEFA Cup ties under Glenn Roeder.
But for now, at another key moment in another cup tie, in another key role, there are just ten pairs of eyes focused on Ramage.
Ten young faces, awaiting advice and instruction as one of their team-mates received treatment, now stood looking up at their lead coach.For just over an hour, Newcastle United Under-18s were in complete control of their FA Youth Cup fourth round tie against their Colchester United counterparts
.A freak own-goal had given them a half-time lead which was extended with a fine volleyed finish from the impressive Callum McNally. Michael Ndiweni - a constant thorn in the side for the visitors defence - added a third just after the hour-mark with a clinical finish that made it three goals in two Youth Cup ties.
Samson Tovide gave the U's some hope when he scored on 76 minutes, just moments before an injury to one of Ramage's players allowed him to regroup his players and deliver careful and considered words to see them through a tense close to the tie.
Standing where he once took direction from the likes of Graeme Souness, Glenn Roeder and Sam Allardyce, Ramage could be forgiven for losing himself in the moment - but he was focused and calculated, despite that lingering pride of standing in the home dugout at St James' Park.Post-match, the emotions and pride were all-too-clear to see.
He told Newcastle World: "My two goals are here, my wife is here, my Mam and Dad are here and they travelled the length and breadth of the country to watch me play.
"It was brilliant, it's not about me, it's about the players. I've played here in front of 52,000, I know what it's like being on the other side of that white line.
"The staff are brilliant to work with day-in, day-out. The experience that I haven't got, but they've got, is invaluable.
"It was surreal, and the only time I really enjoyed it was when the referee blew the full-time whistle. It's great for me, it's great for my development to be in an environment like this, to try and educate and get guys through the system.
"I said to them afterwards, one of the proudest moments was West Ham away (a 3-2 win in the last round). Unfortunately, that wasn't at their stadium, but tonight has just topped that.
"I played in some fantastic stadiums, and experienced some unbelievable things, but tonight, to see the players go out and get the victory was a real proud moment."
Nerves had been set on edge as Colchester substitute T'aizo Marcel-Dilaver pulled a goal back in the third of 11 minutes of injury-time. But the young Magpies held firm, despite their momentum being continually disrupted by a series of injuries.
They showed the resilience and determination that Ramage had displayed throughout his career - although in securing a Youth Cup win, the United youngsters achieved something their coach had not.
"I don't have great memories of the Youth Cup," explained Ramage.
"I got beat in the third round in both my times here. I remember playing here against Crystal Palace, we drew 2-2 and then got hammered 4-1 down at their place. Then we played Norwich away during the next year and got beat 2-1 down there.
"I never had the privilege. They can say they scored (and won) at St James Park, it's the stuff of dreams for us Geordies. It's not great memories, but they are memories I remember and it's about them making memories and remembering and enjoying these occasions.
"Then they should want more, they've had a taste of this. Not only should they want to do well in this Youth Cup, they have to want this for the rest of their careers."They've got to want play here in front of 52,000, not 1,200."
Despite Ramage's lack of success in the Youth Cup, the United youngsters do not have to look too far for inspiration in what can be achieved in the competition.
Stood alongside him in the home dugout was Ian Bogie, who was part of a Magpies side containing the likes of Kevin Scott, Paul Stephenson and, of course, Paul Gascoigne, that last won the competition in 1985.
The duo are part of a healthy contingent of Geordie coaches in the academy at present and they are both keen to use the Youth Cup as inspiration to help their young players develop into potential first-team candidates.
"It's a great competition and I've got a guy stood next to me that has won it. Boges knows how to win it, it's been a long time. It's over 35 years since we won it, we joked about it and he remembers it fondly," said Ramage.
"It's tough, it's demanding, but when I retired, it was what I wanted to do. I wanted to be a coach, I wanted to give players a chance to experience what I experienced."
Several of Ramage's young players have caught the eye this season. The pace, power and hold-up play of striker Michael Ndiweni played a key role in a hard-earned win and captain Jamie Miley played a leader's role in the middle of the park.
Full-back Callum McNally impressed at both ends of the pitch and goalkeeper Max Thompson - who recently signed his first professional contract - looked cool and composed throughout.
Newcastle Head Coach Eddie Howe looks on during the Emirates FA Cup Third Round match between Newcastle United and Cambridge United at St James' Park on January 08, 2022 in Newcastle upon Tyne, England.
The win was secured in front of academy graduates Paul Dummett and Sean Longstaff and Matty Longstaff. But the key observer from the St James' Park stands was first-team manager Eddie Howe, who remained in his seat until full-time when he made his way to the home dressing room to congratulate Ramage's players.
"He's been great, he's just came in after the game," explained Ramage.
"Quite a few of the first-teamers are here too and it's brilliant for the lads, to see that support from the big boys.
"It was great for me as a person, to speak to the manager after the game, but then for the players to see that as well, he stayed until the end and he's congratulating the players. That's massive for the boys as well."
For now, all eyes are on a fifth round trip to Blackpool - but more crucially, for Ramage, all eyes are focused on the future.