The French winger is yet to agree a new contract with the Catalan giants and his current deal is set to expire at the end of the season.
Talks are ongoing between the two parties as they look to agree a deal that would see Dembélé extend his five-year stay at the Camp Nou.
The 24-year-old - who joined Barca from Borussia Dortmund in a £135million deal in 2017 - has struggled to live up to the hype that surrounded his move to Spain after being viewed as one of European football's brightest prospects earlier in his career.
A series of hamstring injuries have hampered his efforts to make an impact at Barca and he has made just 11 appearances for the club so far this season.
Despite his injury concerns, the winger has reportedly attracted the interest of Newcastle ever since a PIF-led consortium completed their protracted takeover of the club in October.
The Magpies are not the only club to maintain an interest in Dembélé with Premier League rivals Manchester United and Liverpool also linked with a move in the past year.
His future remains shrouded in doubt as a deadline over the agreement of a new deal nears - but there was no doubt about Xavi's stance on the next steps in Dembélé's career.
"The message is clear," explained the Barca legend.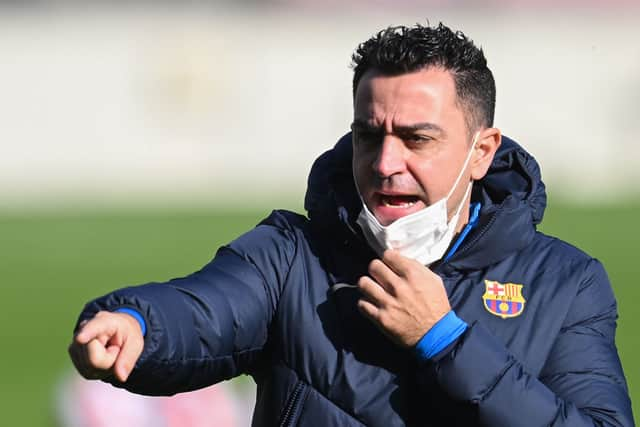 "Ousmane Dembélé has to sign a new contract or we find a way to sell him in January. No other way.
"I also wonder why the agent is talking the way he is and Dembélé, on the other hand, telling me he wants to stay. I can't understand.
"We can't wait for Ousmane. He renews the contract or a solution to sell him must be found immediately.
"I don't consider sending him to stands. He says he wants to stay but then he doesn't sign."
Dembele's agent Moussa Sissoko has been annoyed by the stance taken by the La Liga side over the last month and reiterated he would continue to "defend the interests of his player".
Speaking to French outlet RMC Sport, he said: "They're putting the pressure on, but it doesn't work with people like us. Maybe it works with agents who are close to Barcelona. That's not the case with me, I'm here to defend my player's interests.
"We're not here to react to debates on social media, but the truth has to be said. Yes, we have high demands, but we've shown in the past that Ousmane's career choices are not dictated by money, else he wouldn't be here.
"Then, if Barcelona wanted to negotiate, they could have come to the table with us to talk.
"Except there are no discussions and there are threats coming from them that he won't play.
"That's not allowed. We will exercise Ousmane Dembele's rights if necessary.
"We don't know what we're going to do, nothing is decided. But the management are losing Ousmane by themselves.
"From the start, we've shown that we wanted to negotiate, with terms, but without closing the door."