Newcastle United Women boss Beckly Langley was unable to hide her emotions after the 1-0 victory over table-toppers Durham Cestria on Tuesday night.
The Lady Magpies were fully aware of the game's magnitude. Lose, and their FA Women's National League Division One North promotion hopes would be all but over.
Win, however, and destiny would be in their own hands. Thankfully, that was the outcome, and Newcastle now sit four points behind the league leaders with two games in hand.
Langley is keen to saviour the result, but knows there can't be any slip up in the remaining six matches.
"I'm absolutely ecstatic," said Langley. "We know that we've still got six games to go and we know we need to make sure we step up for each of those games and that we're switched on.
"But we've got to enjoy it as well and enjoy the moment because that was fantastic."
A lot of eyes have been on Newcastle this season with Amanda Staveley outlining her plans to take the club all the way to the Women's Super League.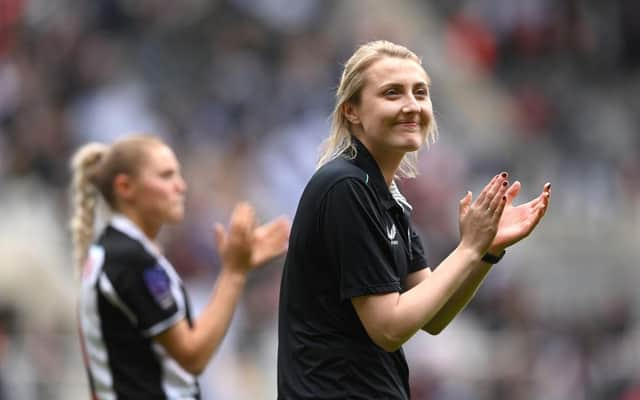 However, the success has been built over many years by Langley and her backroom staff, which she was quick to point out after their midweek win.
"We've been building this for a few years now with a few additions so it's a big squad," Langley said.
"I think the biggest thing for me after that game was watching players who'd been in the development team and didn't make the 16-player squad coming on in their tracksuits and being as delighted as the ones who played and started the game so that shows the togetherness."
The fact that Langley has had to drop previous regulars and top quality players such as Sharna Wilkinson and Cara Milne-Redhead shows the depth on offer and how tough it will be picking a small squad for the remainder of this campaign.
Langley knows she is going to need her entire squad across for their 'six cup finals', so it's only right that she hypes up the role played by everyone in and around team to ensure no heads drop.