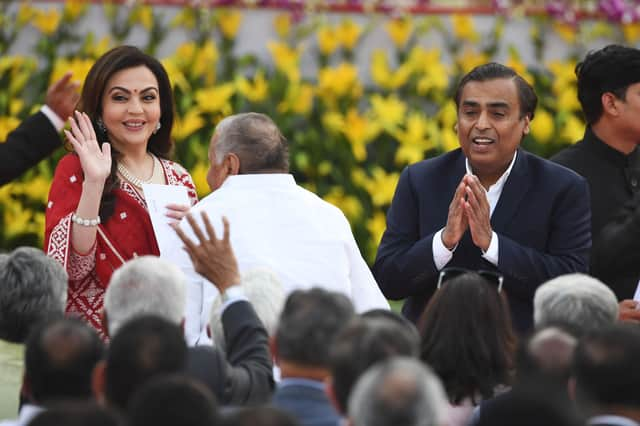 A hammering off Manchester United, a slide into the Premier League bottom three, yet more takeover talk and question marks about Steve Bruce's Newcastle United future. There's never a dull day at St James' Park now, is there?
The Magpies failed to 'spoil' the Cristiano Ronaldo-inspired party at Old Trafford on Sunday, eventually surrendering 4-1 to the Red Devils, despite some early, positive, backs-to-the-wall resistance. And some fiery responses to reporter questions in the post-match interview has brought the position of the head coach very much to the fore.
Meanwhile, the takeover talk wagons are again circling with Mukesh Ambani the latest fan-linked name to proceedings, which have dragged on now, on and off, for the last four years.
Here's a Q&A with our writer Liam Kennedy on the latest goings on at United.
What do you make of the latest takeover talk?
As I have said for a long time now, treat every new link with a hefty dose of scepticism. Far too many people on social media, in particular, want to be the 'I told you so' guy and you just have to take a look at how much mud has been slung to know something, at some point, will stick. There's been A LOT of rubbish talked by too many - and that's ultimately fed this takeover beast, one which has drained and tired too many with the false dawns, fake timetables and blind avenues. Anyway, what I would say is - I've maintained this for some time - there remains a confidence from all parties that a deal can be done. The Reubens were briefing not too long back they will get their deal over the line. Other parties are remaining much more quiet. This is a cards close to the chest point in proceedings. Fingers crossed, eventually, heads can be banged together and a structure worked to progress the sale - whether that be to the PIF-led, PCP Consortium, or A.N Other. Mukesh Ambani is the latest name to be drawn up by the public gallery. As ever, though, we wait. Mike Ashley's dealmakers progress their negotiations and the clock ticks.
Is Steve Bruce on borrowed time at Newcastle United?
Well, at most normal-thinking football clubs he might well be. We do know, however, that Mike Ashley's Newcastle United are no normal-thinking football club. Bruce is running out of friends at SJP, but remains the man, in the eyes of the hierarchy to lead United out of this mini-crisis. As they have proven with other managers before him, and with Bruce at the turn of the year, they are patient when it comes to dips and won't pull the plug unless they absolutely have to, despite a recent rise in tensions.
After a five-game winless run, are United at risk of relegation this season?
I'll start this one on a positive - I still think United will be OK this campaign. I think they have enough to stay up, but do believe they will remain in trouble for the duration, as per last season. However, and this is a hefty caveat, they need to sort out their defensive woes. They will NOT be OK if they keep up their early season average of having to score four goals to win a game. It just won't happen. Keep conceding at their current rate and things will go south very, very quickly. A change in approach and system is the only way for me, but I'm also happy to be proven wrong.
What changes would you make for Leeds United this weekend?
This is normally a game I look forward to. I have a feeling it will be toxic this weekend. Away fans in the home end, a Friday night fixture and bus loads of booze-fuelled Whites heading north to takeover the Toon. That's before I even get on to the toxic home atmosphere and potential protests from fans. For me, Steve Bruce needs to stick with much of the side he picked v Man United, however he needs to change the make up of the backline. Ciaran Clark looks a spent force and Freddie Woodman looks to be struggling, albeit with little help from those in front of him. Federico Fernandez, Paul Dummett (if fit) and Karl Darlow must be considered.