Three points from Southampton, Chelsea and Everton. A good return?
LK: "Of sorts. A point per game is what will keep United up in a regular season, so three from three away from home is no bad return - especially when two of those are at places United usually lose, Southampton and Chelsea. Could, and should, it have been more? Yes. But should we be disappointed? Not in my view."
JC: "If you were asked prior to the three away games, would you take three points from all, I suspect many would have said yes, definitely. But the way the games played out, beating Southampton and narrowly losing to Chelsea and Everton, it's OK to feel a little disappointed. That said, I think it's a solid return. Certainly, the nine-game unbeaten helps that feeling."
Let's talk about Bruno. What are your first impressions?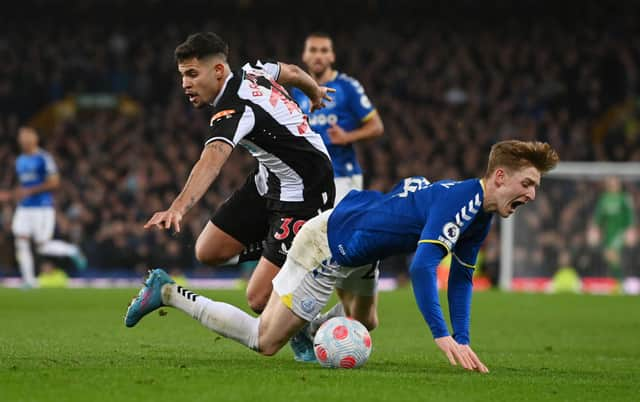 LK: "Looks like a class act on the ball, an upgrade on Jonjo Shelvey in the deeper midfield slot. I really like what I've seen from the player so far - and it still looks like he's getting up to speed. One first half pass at Goodison shone a light on just what Guimaraes can bring - a defence-splitting pass to find an advancing Emil Krafth down the right. He's not the quickest, but is very clever with his movement and is very comfortable taking the ball in tight areas under pressure, the sign of a very good footballer. If this is the level of players United are looking at in the summer, I'm a very excited football writer (and fan)."
JC: "Bruno Guimaraes is a class footballer. Newcastle haven't possessed a player of his quality in a LONG time. Bruno's displays are no surprise, proving exactly why he was watched by some of Europe's biggest clubs. But you never really know a player until you see them in the flesh, and the Brazilian has not disappointed. His transfer to Tyneside was dubbed as a big coup in January, and that has rang true even more now he's slotted into Howe's starting XI. That's what ambition buys you."
Allan Saint-Maximin, discuss…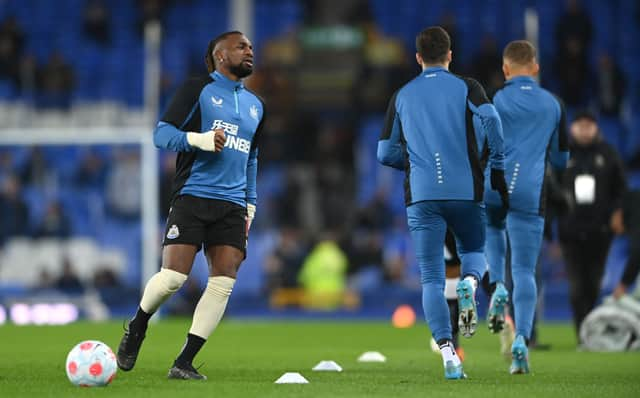 LK: "A class act of a footballer. Unparalleled ability for beating players, when it comes to contemporaries in the Premier League. A maverick, a match-winner. ASM's performances need to be framed in such a light, not the negative one in which people expect him to do things that do not suit his game. He is not a defender, or even a typical wideman, he's a forward - and a forward you don't want operating in his own defensive third. In this system, unless played as the striker - which is a role I believe he can excel in, if needed - he doesn't look an easy fit. However, I'd write the Frenchman off at your peril. I get the feeling he'll have a big impact on this NUFC season, yet.
JC: "It's a difficult debate. Saint-Maximin has barely trained since picking up his calf injury - and that's shown in his cameo appearances against Brighton, Chelsea and Everton. Newcastle have proven they can win without Saint-Maximin, but is it right to say he doesn't fit into Howe's current way of playing? OK, so the high intensity, high press is probably a bit beyond the maverick Frenchman but that isn't to say he can't be utilised at all. He is one of the most unique wingers in the Premier League and remains the club's talisman. Imagine having this debate pre-Aston Villa? The questions over his suitability, based on recent weeks, are valid but it's wrong to write ASM off. Short memories are not a good look. Give him a chance to get fit again."
Thoughts on the trip to Dubai?
LK: "It's a welcome break after a tough schedule. I can see the reasons why Eddie Howe has gone for it, but I am not sure the players will be overly keen, particularly after spending the last week or so on their travels. However, that's the life of a footballer - and one these players, if they want to stick around, must get used to, with Howe and United targeting European qualification in the not too distant future."
JC: "A change of scenery should do Newcastle good during the 16-day break. Howe will have requested the trip to Dubai with the impact of the Saudi trip at the forefront of his mind. Before they travelled to the Middle East in January, the Magpies were in the relegation zone. Fast forward to now and they're nine points outside of it, recently coming off the back of a nine-game unbeaten run. Same again, hopefully, ahead of the run-in."
Will Newcastle avoid Premier League relegation?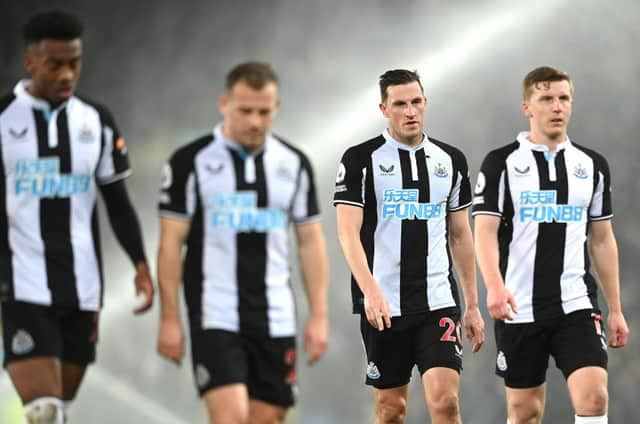 LK: "Absolutely. This team has shown it has more than enough to avoid relegation. I suspect a finish anywhere between 11th and 14th is in the offing for the Magpies this season. Three more wins and a couple of draws will get them lower mid-table with ease. For some perspective, that would have seemed like the prediction of a dreamer if you roll the clock back to January, so expectations among the fanbase must be managed somewhat. Roll on next season."
JC: "Maybe there are a few twists and turns to come but I can't see why Newcastle won't beat the drop. A lot of the groundwork has been done since January, now it's about adding the finishing touches. Nine points from the remaining nine games to reach the magic 40 points is more than doable. But as history suggest, United might not even need that. 34/35 points tends to keep you up. Howe & Co are within touching distance already."