Before Eddie Howe's arrival as head coach in November 2021, Sean Longstaff knew his Newcastle United career was heading one way only.
The North Shields-born midfielder broke onto the scenes at his boyhood club during 2018-19 before a knee injury in a 2-0 defeat away to West Ham United cruelly cut short his season.
In truth, Longstaff never really recovered. That was his last game under the management of Rafa Benitez, who left in the summer. Steve Bruce came in, but the Geordie noticeably wasn't the same player, not least the one that Manchester United had shown interest in.
Reflecting back on the summer of 2019, Longstaff recalls: "It was [difficult], but more because I was trying to come back from an injury. Obviously Rafa was here at the time, I was close with him, then he left and the new manager in. It was a race to be fit, I wasn't really fully fit but felt I had to play to show the new manager.
"It was just bad timing with everything. I had only played nine games, I had played at Blackpool and now your name is being mentioned [with a move]. Everyone wanted to speak to me about it. In my head, I just thought I can't even bend my knee. It was a weird time. It happened and I came through it.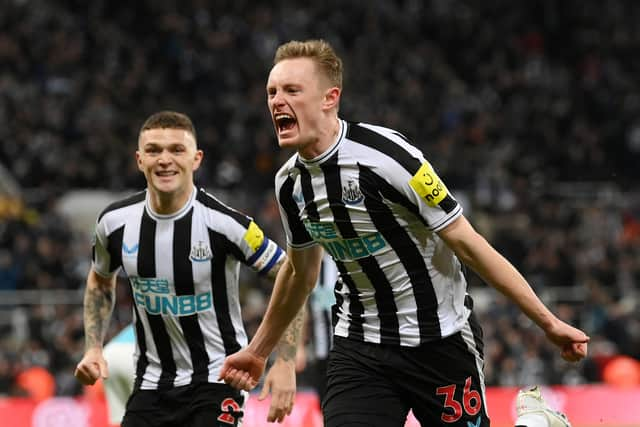 "Everything happens for a reason. If you'd say I was going to stay and play in a cup final for Newcastle United, I'd have snapped your hand off. I am really happy how it has turned out."
Speaking alongside Eddie Howe, Dan Burn and Kieran Trippier at the club's pre-Wembley media day on Tuesday, Longstaff is the only person there to have experienced the toxic Mike Ashley era to now.
The change of mood and direction at Newcastle since Amanda Staveley & Co acquired the club is perhaps well-reflected in Longstaff. Like many of his teammates, the 25-year-old is currently playing the best football of his career.
That said, it hasn't been straightforward. Frustrations from Longstaff remained prior to this season. Initially, he wasn't a regular starter under Howe but the midfielder believed and liked what he saw from the 45-year-old on the training pitch. And that convinced him to sign a new three-year contract last summer.
"When we were trying to sort out the contract last season, he was talking about where he sees me," Longstaff explains. "Last year I wanted to play a bit more but the team was the bigger picture. I had to buy into that and show I can be a good team player and be ready to step in and play when needed."
In 22-23, Longstaff has featured in all 31 of the Magpies' matches in all competition - starting 26 of them. Longstaff calls it "lucky", but we're not sure Howe will agree.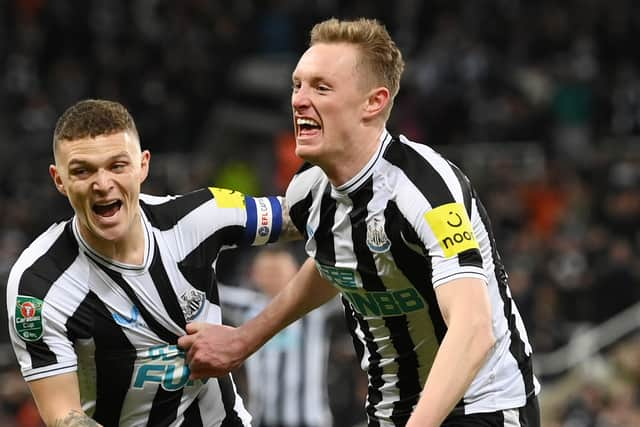 He says: "I got lucky in pre-season really when Jonjo (Shelvey) got injured which meant I was only an injury away from playing. Then Bruno got injured and I got in, scored at Fulham and ran with it. I was always confident that with the top players we have in the team, if I got in, I'd be able to fit in."
Longstaff thanks Howe for saving his Newcastle United career as he prepares to line-up for the club's first cup final in 24 hours. Imagine writing that sentence 12 months or so ago.
"It's funny how football can play out sometimes," he adds. I was on the outside looking in a little bit and now it has all changed very quickly. A lot of that is down to the manager.
"Since the first day he walked in, I have really taken to him and his staff. He has probably saved my Newcastle career and for that I will be forever grateful to him.
"I think me and the rest of the squad are now looking to repay him with performances and hopefully, that can start on Sunday with a cup final win and we will be remembered forever.
"I think if someone told me a year and a half ago I'd be about to play in a cup final for Newcastle, I am not sure I would have believed them. I feel as though it has been quite an up-and-down journey - one I have enjoyed. You have to just be as positive as you can be.
"I will walk out Sunday or be around to support whoever does, but just to be there, to soak in the atmosphere and the occasion is something I feel very privileged to do."