Newcastle United takeover: Eddie Howe speaks as Premier League told to re-examine PIF-led deal
Everything Eddie Howe said on the ownership of Newcastle United.
Watch more of our videos on Shots!
and live on Freeview channel 276
Visit Shots! now
Eddie Howe faced questions from the media about the ownership of Newcastle United after the takeover emerged back under the spotlight.
The Premier League approved the Public Investment Fund of Saudi Arabia-led takeover in October 2021 after receiving "legally binding assurances" that the Gulf state would not control the football club.
However, in a US court hearing this week, Magpies non-executive chairman Yasir Al-Rumayyan has been described as "a sitting minister of the government" with "sovereign immunity".
This has sparked fresh scrutiny around the ownership model, with human rights group Amnesty International calling for the Premier League to launch a re-examination.
Newcastle are 80 per-cent owned by PIF, with PCP Partners and RB Sports and Media holding a 10 per-cent stake each.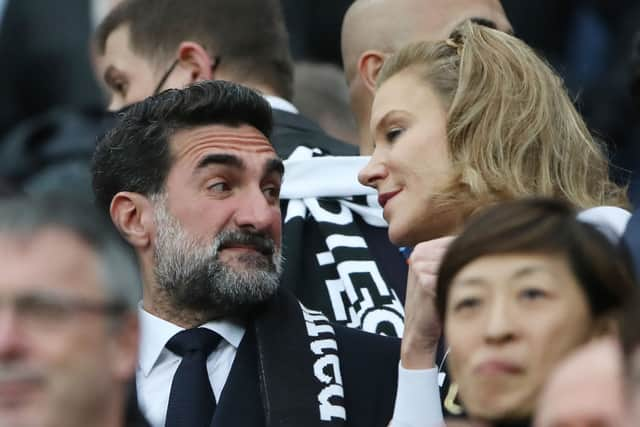 Here's what Howe had to say when speaking ahead of Saturday's trip to Premier League champions Manchester City:
The ownership of the club has come back under the spotlight. What do you make of the situation, and have you sought assurances from above that everything is OK?
"I've not sought any assurances. To be honest, I've not given it too much time. I'm aware of the headlines, I've seen the headlines, but I haven't really invested in the details behind it.
"I've got Manchester City to prepare for and that, genuinely, has taken all my attention.
Have you spoken to the ownership reguarly this week about cup final and the end of the season?
"We had regular communications with different board members after the game. I think we've been engaged probably more this week than most just because of the game and the importance of the game."
Do you discuss it with the players if they have any questions?
"Well, I would do. If a player ever came to me, I'd have that conversation. But no, I don't find it difficult.
For me, my job is training the players, trying to get them in the best physical, mental, tactical condition to win the game. The minute I deviate from that is the minute I go into dangerous waters for me and I waste energy in areas that don't help the players.
"For me, my main job is t coach the players and get them in the best place possible."
Do you have a channel to speak to owners about it?
"I've always got a channel to the owners, I've got regular communication with them, not necessarily on those subjects, but on the team and how to improve them."
Do you feel the owners need to say something and take the pressure off you?
"Amanda did, I believe, comment on them yesterday... [Press Officer: "She was at an FT Live event yesterday and faced questions on a range of topics."] ...so I do believe that that message is out there.
"Obviously the focus comes on me because I'm sat in front of you every week, but I don't think – as I've said many times - it's a conversation for me to necessarily brief on these matters because I'm not really qualified to do it."
As manager of Newcastle, on a day-to-day level do you think personally it is based overseas and is controversial? Is it relevant?
"I wouldn't say it gets in the way of my job at all. I've had very open communication from the day that I joined with various people connected to the board. But my conversations with them are all football-related, at no stage has it ever gone political.
"That's not my area, I don't want it to be my area, I want to concentrate on how I can improve the team, what tools do I need to do that and the relationships with those people around me at the football club are very important. Now obviously if I felt there was a time I needed to ask a question, I could. But I haven't done that."
How much communication with PIF?
"Very, very low, because as Dan Ashworth's based at the training ground so I have regular communication with him, Darren (Eales) will at time to time come to the training ground, Amanda and Mehrdad are on the phone for me as a really good source of knowledge and help and support for the team.
"But beyond that, obviously I have a relationship with the chairman, beyond that with PIF it'll only be really board meetings I would see them and communicate with them."
Amnesty International called for the Premier League to re-examine the takeover - do you understand why?
"I'm not going to comment on that. I'm not the right person to ask."
Did you seek any legal assurances about separation when you took the job?