Newcastle United extended their unbeaten Premier League run to six matches via a tightly fought 1-0 win over Everton. Miguel Almiron's fifth goal of the campaign was enough to claim the Magpies' fourth win in 2022-23.
Here, our writers Jordan Cronin and Mark Carruthers take a look at the key topics surrounding the victory:
Miguel Almiron... discuss?
JC: "He only scores corkers, doesn't he? Incredible finish - typical of a player oozing confidence right now. To think in January, Almiron was in the conversation of players that could be sold in the summer. But since about March, he's grasped his opportunity. A really promising pre-season has carried into the league and his five goals so far is his best return since joining from Atalanta for £20million. Miggy certainly deserves his plaudits and long may that continue."
MC: "I think we are now seeing the Miguel Almiron we always hoped was in there from the minute he signed. You always know what you would get with him. There was always energy, work-rate and commitment, but now we seeing real signs of quality and he is putting end product on the end of his work. The challenge for Miggy now is to prove it's not just a purple patch, but to go on and continue this form for the rest of the season. Getting into double figures with goals , adding more assists and continuing to build what feels like an increasingly influential right-sided partnership with Kieran Trippier should be his main aims for the rest of the season."
Is Frank Lampard right to believe Everton should have had a penalty?
JC: "It could have gone either way, to be honest. Personally, I didn't think it was a penalty."
MC: "I've watched a number of replays of the incident and I think I'd agree with the Match of the Day pundits and say I've seen those sort of challenges punished but I didn't think there was enough contact to suggest it was a foul. The problem is that Dan Burn has given the referee (and the VAR officials) a decision to make and on another night it could have gone against Newcastle. But I have to say I agree with Frank Lampard when he suggested accusations of diving made against Anthony Gordon may well work against him when it comes to decisions being made."
Newcastle weren't at their best but grinding out results is the sign of a good team?
JC: "It absolutely is the sign of a good team. The most pleasing thing is we're seeing a number of different sides to Newcastle's game. They've got the ability to blow teams (Fulham and Brentford) away but they're also able to dig deep when needed. The game was won by a moment of individual brilliance, and Newcastle have a number of players capable of that in the likes of Bruno Guimaraes, Kieran Trippier and Allan Saint-Maximin. Given Howe named an unchanged starting XI for the second game in three days, it's to United's credit they bare gave the Toffees a sniff."
MC: "They weren't at their best but the difference now is that Newcastle can not play well but remain in control, remain disciplined and remain hard to beat. Even when Everton had periods of possession I never really felt as if they were going to hurt Newcastle and that is credit to everyone in black and white because I thought the organisation and togetherness throughout the entire 90 minutes was top class. You look back 12 months, when leadership and guidance were sadly lacking, and compare it to what we see now and it's chalk and cheese. Yes, Kieran Trippier has the armband, but there's a very good argument to suggest there are six or seven genuine leaders on that pitch and another couple among the substitutes. It's that leadership and the odd sprinkling off magic that is guiding Newcastle through tight games and I'm not sure that would have happened in the past."
And what about the defensive record? The best in the Premier League!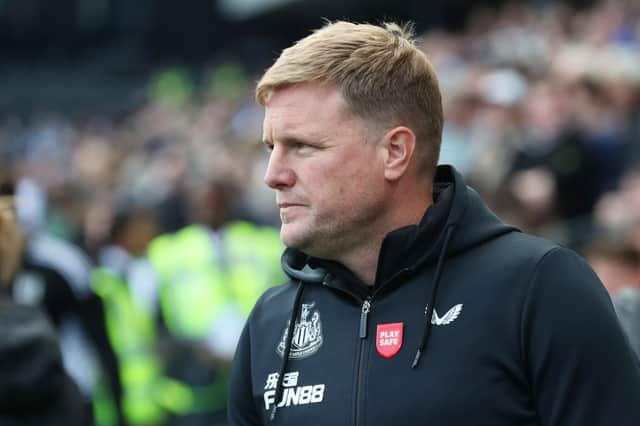 JC: "Interestingly, in the build-up to the game, Howe was reminded that several pundits said he wasn't a defensive coach when appointed NUFC boss. Well, Howe has certainly proved those doubters wrong. Rafa Benitez used the "short blanket" analogy, meaning if you defend you can't attack and vice-versa. Howe deserves huge credit for getting the balance right at both ends of the pitch. And what a turnaround by the way. In 2021, United conceded a record-breaking 80 goals. In 2022, they have shipped only 29."
MC: "I'm a little uncomfortable with seeing a Newcastle side lauded as efficient and effective when it comes to defending. It just doesn't feel natural but joking aside, it's wonderful to see. You get the sense that the back five - including Nick Pope - and the team as a whole take great pride in keeping clean sheets and being hard to break down. If we look back to the days of Steve Bruce and even Rafa Benitez to an extent, there was a feeling players didn't enjoy the defensive side of the game but now, especially seeing the post-match photo of Pope and the back four celebrating, you can sense they love what they do. I also think it's important to point out that this isn't a defensive Newcastle side either, this is a Newcastle side playing 'front-foot football' and taking the game to the opposition but remaining defensively solid at the same time. Eddie Howe and his coaching staff have to take great credit for that.
Can Newcastle make the top six this season?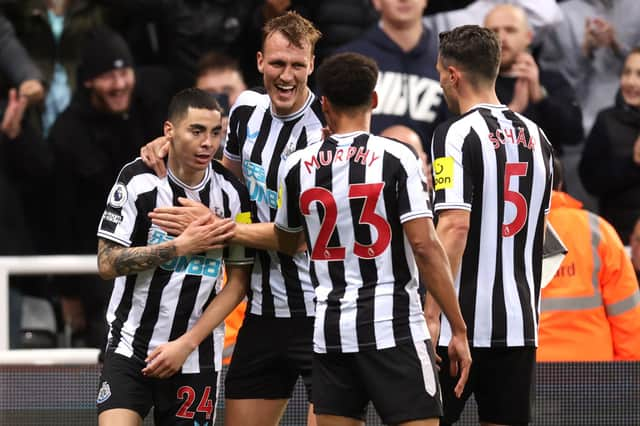 JC: "It's perhaps too early to say this but I will anyway... I think Newcastle have a top six feel about them this season. We're all going to games anticipating a win, or at the very least a strong performance, and that's a feeling that hasn't occurred for years. There are tougher games to come - Tottenham on Sunday being one - but Howe's side have proven they can compete in any game - just see Man City, Liverpool and Man United for example. If they're in European contention by January, I'd back the club to sign players capable of getting them over the line. The owners want success and won't miss an opportunity should it arrive."
MC: "I've had this conversation many times in recent weeks and I always say the same thing. If they can remain in contention until the World Cup break then there is a genuine chance of sneaking into the top six. I think we will know more about how genuine those chances are once they have played Spurs on Sunday and the final game before the break against Chelsea because I think they're two top sides that have caused Newcastle major problems in the past. Looking more positively, they have put together a strong run of form without the likes of Allan Saint-Maximin and Alexander Isak, who will hopefully be fit and flying by the time January comes around. I've no doubt further quality will be added in the transfer, so if they are in contention come the turn of the year, then I see no reason why they can't genuinely challenge for the top six."