Newcastle United's open stance on selling St James' Park naming rights revealed
Newcastle United CEO Darren Eales was asked about the possibility of selling the naming rights for St James' Park as a way of increasing commercial revenue.
Watch more of our videos on Shots! 
and live on Freeview channel 276
Visit Shots! now
Newcastle United chief executive Darren Eales says he will consult supporters before making a final decision on the St James' Park naming rights.
It is Eales' role to increase the Magpies' commercial revenue stream in order to enable greater spending power in the transfer market - in line with Financial Fair Play rules - as well as strengthen other key areas of the football club.
One potential avenue that has been mooted is naming rights to St James' Park. Sporting director Dan Ashworth's former club Brighton is just one example - the Amex Stadium.
Meanwhile, the likes of Manchester City and Arsenal have adopted a similar model, partnering up with airlines companies Etihad and Emirates, respectively, in a joint stadium and main shirt sponsor deal.
CEO Eales hasn't ruled out that possibility but promises the view of the Newcastle fanbase will be at the forefront of any potential decision in the future.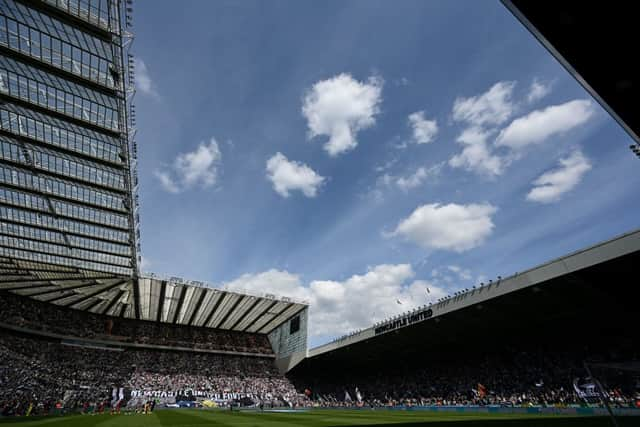 Eales told local reporters: "Obviously I worked in the Premier League and in English football then had the privilege to going out to the US and start up a club from scratch. It was really interesting, we had three key factors as we built Atlanta United.
"First, what happens on the pitch is what people care about. Second was about fan engagement and third was being in the heart of the community because we were a brand new team starting up.
"The reality was, every decision we made to build the club was through the lens of those three.
"The fan engagement was particularly eye-opening to me because we couldn't rely on a family of supporters, or a stadium with a massive waiting list. It's not that you took the fans for granted, it just wasn't necessarily a hindrance.
"When we were in America, we were building and making decisions through fan engagement. We weren't doing it to think 'OK, how can we have 52,000 average crowds or 'how can we bringing in more commercial revenues that a lot of clubs in Serie A clubs in Italy'. That wasn't the process, the process was what made sense from the fans from experience. And what you find is you're able to bring in the revenue because you've done those things.
"As we think about our opportunities to work with partners, we have to obviously do that through the lens of the supporters by engaging and communicating with them."
Previous owner Mike Ashley sparked outrage among the United fanbase when he renamed St James' Park the Sports Direct Arena in 2011. A year later, then-sponsors Wonga acquired the stadium naming rights and changed it back to its rightful name.
Eales admits an "association naming rights" could be an option, meaning St James' Park would remain but have another company's name alongside it.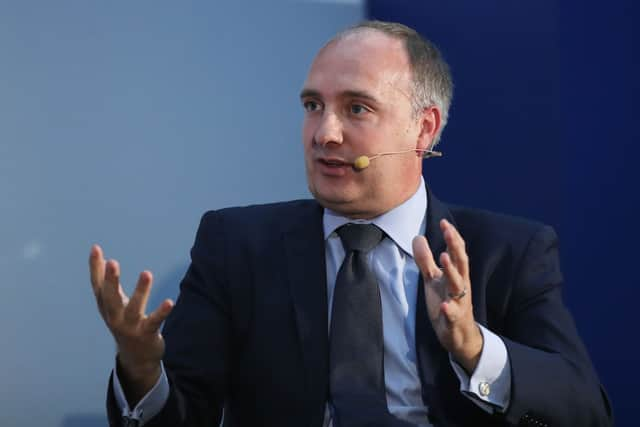 "Clearly, there's a history (Sports Direct Arena) and it didn't work for a number of reasons but I think communication was a key one," Eales added.
"For us, it's about talking with our supporters and being open by saying 'look, we all want to get to this place and to get to this place we need to bring in commercial revenues'.
"There's always going to be a little bit of a trade-off in certain areas. I'm just being hypothetical here, we would talk and have a dialogue around the stadium and it might be that it's not a naming right but it's an association naming rights.
"That might be something that everybody is comfortable with but there has to be dialogue and there has to be an explanation.
"And then, it's about 'OK, this is something we think can help the club and if there is a general consensus that's a path to go down'. If 99.9% don't want to do it, then it'd be crazy to do it because it would be a bad decision because it's not going to add any value to the brand.
"My approach on something like this, and we'll see it as we develop, is firstly not to come in and think I've got all the ideas. I want to listen and that's from our employees, board and people in the region.
"I've been trying to have talks with the University, the council, Sir Brendan Foster because he started off the Great North Run. There are so many people in the city and region who have got great ideas.
"But at the end day, we've got to take all those things back to the in and look to deliver what we can and remember the goal is out there on the pitch. Everything ties back to that.
"We've got to explain that, have that dialogue and I think if we've got a consensus that we're going to get there and if everyone appreciates that's where we are going to get then you'll usually find consensus because that's what we all want.
"We want Newcastle United to be competing for trophies and be in the top six consistently and be up there in Europe. If we can find a path that gets us there the quickest way possible then we're going to bring everyone on the journey."