Controversial Newcastle United club owner, Mike Ashley, ranks 12th out of 20 clubs in the Premier League rich list.
Ashley has owned Newcastle United since 2007, and since then has maintained a consistent ranking on the Premier League rich list. Ashley's estimated net worth is £2.66 billion.
Who is Ashley ranked higher than?
Ashley's financial ranking (based off the end of 2020's predicted net worth), places him above Liverpool owner John Henry (valued at £2.35 billion) by £31 million.
As well as Liverpool, Ashley's net worth places him higher than Farhad Moshiri's Everton (£1.9 billion) and lowest-ranked Mike Garlick with Burnley (£62 million).
Ashley also ranks higher than all three newly promoted teams, Brentford, Norwich and Watford.
Who is Ashley ranked lower than?
Ashley's estimated net worth of £2.66 billion places him £34 million behind 11th highest, Aiyawatt Srivaddhanaprabha, owner of Leicester Football Club, whose current value is £3 billion.
Slightly beyond that in 10th is Southampton owner, Gao Jisheng, valued at £3.1 billion.
The Reuben Brothers, who are said to be in talks with Ashley over taking Newcastle United over as part of a consortium, have a net worth of £16 billion.
Should that takeover be successful, the brothers would become the second richest owners (or part-owners) of a Premier League club, beaten only by Manchester City and Sheikh Mansour, with an estimated net worth of £23.3 billion.
Local rivals and their net worth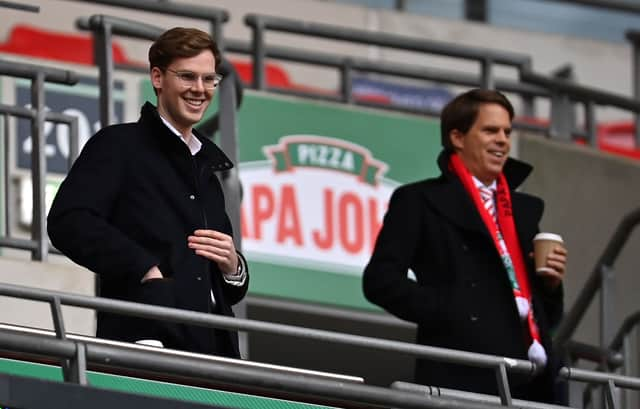 Sunderland FC, while leagues away from reaching Newcastle, are closing the financial gap.
New owner Kyril Louis-Dreyfus is valued at £1.4 billion.
Middlesbrough find themselves in the league above Sunderland F.C. but far lower in the financial rankings as owner Steve Gibson is valued at an estimated £189 million.